Mendocino Coast Adventures: Wine, Food and So Much More
Story and Photos by Deborah Grossman.
Mendocino is 1.4 times larger than my home state of Delaware. This may explain why I am always awed by the grandeur of the geography and diversity of landscapes each time I visit Mendocino County. On this trip to the Mendocino coast with my spouse, we stayed in the tiny hamlet of Elk located on a bluff overlooking a driftwood strewn beach. We drove north past rock outcroppings known as sea stacks through Albion and Little River to explore the picturesque village of Mendocino.
Indulge in a Getaway to Mendocino County.
Story and Photos By Lee Daley.
Now is the time to indulge in a getaway to Mendocino County. It's all there, breathtaking beauty, surf, sand, a rocky coastline, world-class botanical gardens, and an oceanfront artistic village. A destination worth flying to from anywhere in the US, Mendocino County offers an idyllic interlude within a three-hour drive from  San Francisco.
On the Mendocino Coast, a Frolic on the Rocks
Story and Photos by John Sundsmo.
In 1850, Frolic, a sailing ship bound from China to San Francisco with cargo for the Gold Rush, ran on the rocks near Point Cabrillo on the Mendocino Coast. Frolic gave birth to Mendocino, but that's only part of the story. The present-day village culture continues to embrace good frolicking. For a weekend getaway, my wife and I visited Mendocino Village and the nearby town of Little River. I discovered coastal history that is now invisible to the naked eye.
The U.S. premiere of "Kehinde Wiley: An Archaeology of Silence" creates sacred space at San Francisco's de Young Museum.
Story by Carol Canter.
Digging through "An Archaeology of Silence," the powerful Kehinde Wiley exhibition at San Francisco's de Young Museum, feels like an entry into sacred space. Dimly-lit galleries are the stage set from which emerge gleaming bronze sculptures and vibrant light-suffused paintings of fallen heroes, their muscular brown bodies glistening across swirling botanical backgrounds of flowers and foliage in brilliant saturated colors.
Story by Carol Canter.
The visceral power of my connection to a swim-themed gallery at the Joan Brown Retrospective at SFMOMA, as well as my immersion into a film, The Swimmers, has inspired me to reflect upon my longest-lasting and healthiest habit of a lifetime — as well as on my fellow "swimmin' women," companions complicit in sharing the natatory journey.
California Dreaming: A Nod to my Love Affair Skiing the Golden State
Story by Stephanie Levin.
My love affair with skiing began in the cradle of the San Bernardino Mountains with the first snowfall. Four of us excused ourselves from high-school classes at noon, tossed our skis in the back of an old woody wagon, and headed up the two-lane road to Snow Valley, praying the snowplow had done its job and chains for the tires wouldn't be required. Pulling over and putting on chains cut into our precious afternoon time on the mountain. Once we arrived at Snow Valley, we zipped the faded- blue nylon pants over our jeans, buckled up ski boots, and crunched through the snow with our lengthy second-hand Head skis, replete with funky bindings you'd find in a museum today. Ski gondolas were an item of the future, so we coupled up on the double chair lift, which capitulated us to the top of the mountain.
Traveling the Continent's Edge on a California North Coast Journey
Story by Carol Canter.
Traveling north from San Francisco on Highway 1, one of the world's most glorious ribbons of coastal road, is a trip on the edge. This is land's end, where mountain cliffs drop precipitously to the sea, their edges chiseled, pounded, even torn apart by the ocean's power. Huge boulders stand firm against the surf, glistening shapes in a watery rock garden. Windblown cypress sweeps up the cliffs, only to disappear when the fog rolls in and obliterates all coastal detail into an obscure world of pewter gray.
San Francisco's Top of the Mark Celebrates 50 Years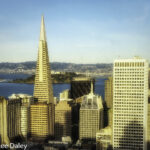 Story and Photos By Lee Daley
San Francisco Top of the Mark atop the Intercontinental Mark Hopkins Hotel is now celebrating the hotel's 50 year anniversary.. The iconic 19th-floor sky lounge  has updated its live music roster to include acclaimed local musicians such as Nick Rossi and his Swing Four. Celebrate Easter Brunch with live piano music and unlimited Bellinis surrounded by spectacular views of the City and the Bay.
Celebrate Holidays in the Hills at Claremont Club & Spa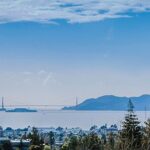 By Lee Daley
Claremont Club & Spa: Create memories to treasure with a celebration of this year's Holidays in the Hills at the Berkeley-based Limewood Bar and Restaurant's outdoor dining deck. Here is where you'll find stunning sunset views of San Francisco, the Golden Gate Bridge, and Mount Tamalpais. Or choose the inside dining room and convivial bar, equally memorable. Look for farm-to-table dishes at this "castle on the hill" sitting at the base of Claremont Canyon Regional Preserve. A longtime favorite, Limewood is part of the Claremont Club & Spa whose amenities boast an impressive spa, and tennis courts. a seasonal skating rink, fitness center, and more. I recently visited the Limewood and found the views, the cuisine, and the ambiance the perfect setting for a romantic and relaxing interlude. Perfect to celebrate the holiday season, it's long been a popular local destination as well.
Tomales Point, a hike for all seasons at Point Reyes National Seashore
Story by Carol Canter with photos by Lee Daley.
Tule Elk grazed on the grasslands along the Tomales Point Trail, seemingly indifferent to the steady stream of photographer-hikers captivated by the stately herds. The superstars were clearly the bulls, their branching racks of antlers silhouetted against the azure sea, sky, and bay. This was not fall rutting season when the air is electric with its libidinous energy, but a warm sunny December 29. The mild weather and readiness for a break from holiday revelry brought us to the great outdoors, and into the natural wonders of Point Reyes National Seashore.
The Redwood Room in San Francisco
Review by Lee Daley.
San Francisco's Redwood Room at the Clift.
Welcome to the Redwood Room—an unforgettable San Francisco destination just steps away from downtown Union Square. Whether at the bar, crafted from an 800-year-old redwood tree. or seated in the extended seating area with its magnificent Klimt artwork display, you can expect superb service in an elegant and intimate setting. It's almost a rite of passage for locals and visitors to take in the Redwood Room vibe with its soaring redwood walls, subdued art deco lighting, and welcoming servers.  On a recent Thursday evening visit, my spouse and I found vocalist and pianist Josh Gelfand holding court as he fielded musical requests from fans.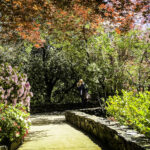 Story and Photos by Lee Daley.
When it comes to year-round activity, Calaveras County, a 2.5-hour drive from anywhere in the San Francisco Bay Area, has it all. Truly a place for all seasons, this is where outdoor activities, wine tasting, fine dining and just plain "fun in the sun" thrive. Here in the Sierra Nevada Foothills, you'll find more ways to unwind than you can shake your bathing suit at. And to unwind any time of day, the county's prize-winning wineries beckon. One thriving community with the unique moniker of Murphys boasts more than two dozen wine tasting venues along its downtown promenade. Take in its art galleries. Attend live theater events. Or stroll through its green community park with its bridge-covered creek and shaded picnic tables. Add in free summertime concerts in the park. Calaveras County beckons.
Calaveras County for Mining, Hiking, Biking, Wining, Dining, Fishing, Camping and Jumping with Mark Twain's Frogs.
Story and Photos by John Sundsmo.
Gold country in the Sierra mountain foothills is just a two-and-a-half-hour drive from San Francisco. For my wife and I, a Calaveras County roadtrip was a big question mark. Having been, we now know that Calaveras County has a gold and copper mining history, but today is a mecca for hiking, biking, wining, dining, golfing, fishing, camping, river rafting, gold panning, spelunking, and even vodka, gin and whiskey tasting at a local distillery. With a group of friends from San Francisco, we traveled to Calaveras for an education. We experienced quality wines, amazingly grand vineyards, gourmet dining, a beautiful local country club, and quality lodging. We viewed stunning old-growth forests and many artistic renditions of Mark Twain's jumping frogs of Calaveras County. So, for our next road trip, instead of turning North to Healdsburg, Napa, or Sonoma, we can now consider, instead, a turn to the East to revisit Calaveras, particularly since there is so much there to do and see that invites further exploration.
All Aboard to Napa On One Train and Two Wineries
Story and Photos by Deborah Grossman.
Onboard the Napa Valley Wine Train, the staff welcomed us with a refreshing "Napa Valley breakfast," a mimosa with cranberry juice. As we relaxed into the rhythmic pace of the journey and gazed at miles of verdant vineyards, I felt gratitude for the peaceful ambiance compared to the valley's frequent traffic and bustling tourist scene.
Angel Island escapes into nature, spectacular views and California history
Story and Photos by John Sundsmo.
Longing for a little recreational travel experience and a brief break in the pandemic humdrum, an Angel Island escape beckoned. My wife and I had been to the island twice before but hadn't fully explored its history or beauty. With spring wildflowers reportedly in bloom, an outdoor adventure seemed perfect since Angel Island State Park is one of the largest (1100 acres) and most easily accessible escapes in the San Francisco Bay Area for nature, expansive scenic views, and the important role the island played in early California history. The Angel Island State Park is the largest nature reserve in the San Francisco Bay Area. It offers back-country trail experiences and tram and self-guided walking tours.
Roger Guenveur Smith's 'Otto Frank' is a meditation on the dark history of hatred
A review by Carol Canter with photos by Jay Yamada.
The recent hour spent with "Otto Frank," as performed by Roger Guenveur Smith in a solo show at the Magic Theatre, is agonizing and mesmerizing, painful and enlightening, and all too real. While in tough times like ours today I may tend to turn away from "too much reality," I had been so captivated in my youth by The Diary of Anne Frank that I grabbed the chance to "get to know" her father Otto Frank, the family's sole survivor.
Do you want to visit Yosemite this Summer but don't have a Reservation? – Here are some options.
Story and Photos (except as noted) by David A. Laws.
Beginning in late May, Yosemite National Park in California is instituting a reservation system for admission during the summer of 2022. Designed to reduce congestion while major infrastructure construction projects are underway, Yosemite spokesperson Scott Gediman estimates that the park will see about 70 percent of peak hour traffic compared to pre-pandemic levels.  Depending on their success in reducing overcrowding, reservations could become a permanent factor in planning your trips to this and other popular national parks. The "Ways to Get a Reservation" section at the end of this article provides details of how, when, and where to apply for a permit. But if this summer is your one chance to visit Yosemite and you cannot secure a reservation, what are your options?
Get Acquainted with Carneros Wine Country: Chill Out and Enjoy the View
Story and Photos by Deborah Grossman.
"The Carneros wine region is like Switzerland," said Jon Priest, General Manager and Winemaker at Etude winery. "Carneros straddles the southernmost Napa and Sonoma wine countries. Our estate vineyard is on the Sonoma side and our tasting room is in Napa. Much like Switzerland, we need to remain neutral as to which area makes the best wine." Many visitors to wine country have driven through Carneros without realizing the area has long merited its own American Viticultural Area (AVA) designation. The official name of Los Carneros, meaning The Rams, refers to the region's heritage of sheep ranches and dairy farms.
A Grand Night for Singing at 42nd St. Moon
A review by Carol Canter with photos by Ben Krantz.
It is truly A GRAND NIGHT FOR SINGINGat The Gateway Theatre in San Francisco this spring, for all who attend 42nd St. Moon's production of the lively musical revue showcasing the songs of Rodgers and Hammerstein. The show is just the escape needed from life's harsh realities as a stellar cast of 6 brings new life and style to beloved classics from The King and I, South Pacific, Oklahoma, and more.
Alice Neel "People Come First" Exclusive Opening at the de Young Museum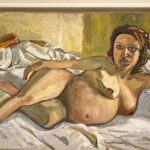 Story and Photos by Lee Daley.
"For me, people come first. I have tried to assert the dignity and eternal importance of the human being." – Alice Neel.  Throughout "People Come First", Alice Neel's paintings reflect both her radical personal ideology and her quest to capture the dignity and importance of her subjects. Neel (1900-1984) spent most of her adult life in New York City where, beginning in the 1930s, she lived through the rise of communism, the ensuing Great Depression, and the eventual civil rights and feminist movements. Deeply immersed in the society around her, she described her artistry as a form of history painting in which she portrayed fellow activists, artists, and neighbors as fellow human beings struggling to navigate political change and unrest.
New Thinking on the Future of Architecture and DesignStory by Carol Canter.While many of the nearly 40 artworks and installations in SFMOMA's newest opening "Nature x Humanity: Oxman Architects" are strikingly beautiful, collectively they make up an exhibition that is provocative and mind-expanding. The theme of the show is nothing less than an exploration of how we build for a radically transformed, environmentally healthy future.
A Little Night Music at 42nd St. Moon
Review by Carol Canter.
The 42nd St. Moon's production of "A Little Night Music," my first live theater experience since the pandemic turned all cultural events to Zoom, was a delicious return to the joys of live performance.
The farce, based on Ingmar Bergman's film "Smiles of a Summer Night," is far more than its signature song, Stephen Sondheim's unforgettable, "Send in the Clowns." Yet that song alone, an aching culmination of longing, desire and regret — is worth the trip to The Gateway Theatre in San Francisco.
John Steinbeck's Valley of the World Revisited: A Photo Essay
Story and Photos by David A. Laws.
A ranch in "the wilder hills" from Old Stage Road
"I would like to write the story of this whole valley, of all the little towns and all the farms and the ranches in the wilder hills. I can see how I would like to do it so that it would be the valley of the world." [Steinbeck: A Life in Letters]
In The True Adventures of John Steinbeck, Writer, Steinbeck's biographer Jackson Benson explains that "scene and setting assume a far heavier burden of meaning in his work than in the fiction of most other novelists." 1n 2001, I explored Monterey County's Steinbeck Country seeking landscapes that matched quotations from his stories to photograph for a presentation at the Steinbeck Centennial Conference the following year.
Travel Amtrak's Scenic Coast Starlight from Seattle to Southern California.
Story and photos by Libor Pospisil.
"The journey is too fast, it passes too quickly; what a yearning I have now for long journeys!" proclaimed Franz Kafka in his European train travelogue. If you board Amtrak anywhere in the United States, not even for a moment will you feel deprived of a long journey. In fact, a mellow, meditative state of mind is all you need to revel in the leisurely and lengthy routes that Kafka yearned for. Feeling sufficiently mellow after months of the pandemic, I jumped on a train in the most important railway junction in California that you may not know —my adopted hometown of Martinez in the San Francisco Bay Area. Aboard Amtrak's Coast Starlight, the train would take me to Los Angeles along the most scenic route in California. Without any transfers.
"Experience Leonard Cohen" opens at The Contemporary Jewish Museum in San Francisco
Story by Stephanie Levin.
Leonard Cohen–author, songwriter, lyricist, and poet (1934-2016) inspired, captivated, and illuminated generations of artists and audiences around the globe; his baritone voice and mythical lyrics touched the prosaic psyche and soul with his mind.  Cohen was strongly influenced by his life experiences, and his childhood in Montreal, the town where he grew up, was educated and would return to dip into the spiritual fountain that distinguished his lyrics and the man himself.
The Top of the Mark, an iconic landmark, is reopened.
Story and Photos by John Sundsmo.
First opened in 1939 and open for 80 years, this iconic San Francisco landmark was closed by the Covid-19 pandemic. It was a comfort zone for servicemen and women shipping out to the Pacific in World War II, also the Vietnam and Korean wars. As my wife and I recently discovered, the venerable Top of the Mark is reopened with a new generation of comforts. Positioned at the very top of downtown San Francisco's highest hill (Nob Hill), the 19th floor of the Mark Hopkins hotel, affectionately known as the Top of the Mark, has given patrons dominant views of San Francisco since its opening. The newly reopened Top of the Mark offers post-pandemic comforts including live music with dancing on Friday nights, light appetizers and, signature cocktails. To support and nurture local businesses, the menu now includes cocktails prepared with Hanson organic wine-Vodka from Sonoma, which is paired with Kollar specialty chocolates from Napa.
Story and Photos by Carol Canter.
I whirled around the skating rink in Yosemite National Park, under a full moon illuminating Half Dome. As fingers and toes stiffened with cold, I'd stop to thaw out by the fire pit, pinching myself to make sure it was real — that the sheer granite face of this monolith bathed in silvery light was more than just a lofty figment of my imagination.
Point Sur Lightstation: A Haunted Ghost Town on Prime Big Sur Real Estate
Story and Photos by David A. Laws.
Towering three-hundred feet above the crashing surf of the Pacific Ocean, one of California's most faithfully restored ghost towns occupies prime ocean-view real estate just 25 miles south of Monterey. Inhabited by chickens, a cow, and families with children until less than 50 years ago, the deserted barn, houses, and workshops of Point Sur Lightstation cling to the edge of a great, volcanic rock with spectacular views of the Big Sur coast and marble-tipped peaks of the Ventana Wilderness. Aficionados of the paranormal claim it as one of the most haunted lighthouses in the country.
Story and Photos by David A. Laws.
Birdwatchers look at birds. Birders look for them" – U.S. Fish and Wildlife Service. Birdwatching, feeding and enjoying birds in our backyards, has long been a popular national pastime. As we seek safe, socially-distanced pastimes during the COVID-19 pandemic, the recreational sport of actively searching for them, called birding, is enjoying the fastest growth of any leisure activity in the world. Rock star birding in Big Sur and the inland mountain ranges of Central California offers many opportunities to see eagles, harriers, hawks and especially condors, as they continue to build nests, mate, and rear their young with a freedom that envious humans no longer enjoy.
Celebrate Monterey's 250th Birthday with a Virtual Tour
Story by David A. Laws.
Monterey, California, planned a big celebration today, June 3, 2020, of the 250th anniversary of the founding of the city in 1770. Sadly, all birthday events, from historical reenactments to block parties and patriotic parades, have been canceled or postponed due to the Covid-19 pandemic. Instead, other-worldly masked figures haunt the streets of Old Monterey and the venerable adobes are silent and shuttered. We cannot visit them in person, so I invite you to join me on a virtual tour of some of my favorite spots.
Fort Ord National Monument: From Military Mayhem to Coastal Gem
Story and Photos by David A. Laws.
Beach Range, Engineer Canyon, Machine Gun Flats: These are not typical landscape features you'd expect to find on maps of a California "coastal gem" and "hiker's paradise." Their roles in decades of service under military ownership are now largely forgotten, replaced by the delights of wildflowers, bird calls and jingling mountain-bike bells. Explosions, gunfire and the mayhem of army maneuvers no longer echo across the rugged back-country and ocean-front dunes of Fort Ord National Monument, set between Salinas and Monterey in the heart of Steinbeck Country.
Full moon and comet create kayak magic
Story by Carol Canter. Photos by Lee Daley.
I was standing in a circle of 16 kayakers on Schoonmaker Beach in Sausalito at 6:30pm on a Sunday night in March.
A full cantaloupe-colored moon peered out from behind the masts of sailboats. It was so large and low in the sky that it looked like it was surrealistically painted on a backdrop. Clad in life jackets and holding our paddles, we each introduced ourselves and shared with the group why we were there – more specifically, why we had each signed on to this full-moon paddle on Richardson Bay with Sea Trek.
Splendor in the Grass: Golden Gate Park Celebrates 150 years and you are invited to the party
Story and Photos by Stephanie Levin.
San Francisco's gorgeous gal, Golden Gate Park  celebrates her 150th birthday in April. Like many in the Bay Area, I have an intimate relationship with the park, roaming her hidden trails, sniffing and whiffing her medicinal treasures, gazing across the Moon Garden flanked by seasonal  fuchsia-flecked camellia blooms and powdery pink cherry trees, each rosy and ripe in the spring, naked and lonely in the winter. Indifferent to the seasons, I never miss a chance to  sprint across one of the Botanical Garden's vast apple green lawns only to be surprised that one abuts massive  grandfather redwoods, the entrance to the Redwood Forest, and home to some of the oldest trees in the park. But I digress, have gotten ahead of time, and must take you back 150 years ago to the inception of Golden Gate Park.
Marin Headlands: Just Across the Golden Gate Bridge
Story and Photos by John Sundsmo.
Living in, or visiting the San Francisco Bay Area, we are blessed with the boundless beauties of nature. Water, landscapes and terrain create splendid views on a daily basis. Seasonal changes bring puffy white clouds in winter to foggy mists in summer. Whatever the season, Marin Headlands at the north end of the Golden Gate Bridge brings breath stopping vistas, good cardio-hikes and most of all, a complete escape from everyday concerns. Early morning or late afternoon before sunset, the land is still. It's a place of constant change, of solace and stimulation, at once an escape from reality and an immersion into wonder.
Exploring Silicon Valley's High-Tech Heritage Trail
Story and photos by David A. Laws.
In an earlier article,  "Silicon Valley High Tech Tourism: Selfies and Swag," I reported a lighthearted survey of tech-related tourist magnets in deepest Nerdistan. This second article responds to requests for more information on the places where engineers and scientists finally accomplished the feat that eluded alchemists for centuries – how to turn sand (silicon) into gold (computer chips).  The following itinerary covers a distance of about 30 miles from Stanford University to the former IBM disk-drive campus in south San Jose. With a stop to ponder the implications of events that took place at each site and a break at the Computer History Museum, where many related artifacts are on display, this trip can occupy a full day.
Point Sur Naval Facility Tour Reveals Cold War Secrets
Story and photos by David A. Laws.
John le Carré dismissed Cold War spy heroes as "A squalid procession of vain fools" in his 1963 espionage novel The Spy Who Came from the Cold. Volunteer historian Carol O'Neil at the former U.S. Naval Facility on Point Sur State Historic Park, 25-miles south of Monterey, would beg to differ. "We had heroes in the Cold War," O'Neil insisted in a recent interview on KAZU, public radio for the Monterey Bay area. "It's important for the cold warriors to know that they are valued and their stories are out there." Eager to hear their stories, I joined a line of vehicles awaiting access to this former top-secret naval operation. Jim, a state park volunteer in a bright yellow safety vest bearing an embroidered NAVFAC logo patch, unlocked the security gate. An intimidating "U.S. Property No Trespassing" sign discourages intruders, now called Point Sur Naval Facility.  After warnings of the dangers of ticks, rattlesnakes, and crumbling asbestos-laden structures, he directed us to the administration center. Here we joined a dozen so other visitors curious to learn the secrets hidden in this former submarine detection facility.
Reviews by Carol Canter and Lee Daley
(Review By Carol Canter) "Curtains up, light the lights, you got nothing to hit but the heights!" Well, everything did come up roses opening night for Bay Area Musicals' fabulous production of Gypsy, which director and choreographer Mathew McCoy calls "the ultimate showbiz fable." And that it is — a fable bursting with all the glitz and glitter, hilarious humor and heart-wrenching pathos of the ultimate show biz mother, Rose Hovick, as she pushes her two daughters — hard, very hard — to live out her own dreams. This 1959 fable of the last days of vaudeville is based loosely on the 1957 memoirs of Louise, the overlooked daughter who seizes the spotlight as Gypsy Rose Lee, the famous striptease artist.
(Review by Lee Daley) Coming out of the Alcazar Theater after the performance, the lyrics and musical score of GYPSY resonated repeatedly in my head. It was a heady performance. Drama, humor, anguish and victory all play their part in this roller-coaster ride through the metamorphosis of meek little Louise's transformation into the legendary striptease artist Gypsy Rose Lee. The musical score with lyrics by Stephen Sondheim brings the performances alive as the characters, especially Rose, embody the lyrics. The play is based on the 1957 memoirs of Gypsy Rose Lee and focuses largely on her mother, Rose, the embodiment, of the "ultimate stage mother." Because much of the plot rests on the central casting of Mama Rose, each actress who has taken on the challenge has brought something very different to the show.
A Blizzard of Sanderlings: Watching Wildlife on Morro Bay
Story and photos by David A. Laws – except as noted.  (Feature image courtesy Danna Dykstra-Coy.)
Our kayak slid effortlessly over the glassy-smooth water of the estuary. From the shore, an eruption of sanderlings burst into the sky. Swooping and diving in choreographed formation, a wheeling blur of birds enveloped us in a blizzard of beating white wings. Within seconds, they returned to the pickleweed marsh, cheeping and feeding as if nothing had happened. For us, this spectacular avian welcome to two days of watching wildlife on Morro Bay was a memory we will treasure.
Silicon Valley High Tech Tourism: Selfies and Swag
Story by David A. Laws.
Personal digital devices and online social platforms are enabling a new kind of Silicon Valley tourism. Previously only of interest to heads of state hoping to replicate the economic miracle back home, business people pursuing a deal, and a trickle of history buffs exploring where it all began, today the high-tech mecca is increasingly crowded with denizens of the always-connected world. Selfie-stick wielding pilgrims hustle to score swag and Instagram winning moments at the temples of Apple, Facebook, Google, and more. Silicon Valley high tech tourism abounds.
Hilton San Francisco Union Square Staycation
Story by Carol Canter. Photos by Carol Canter and Jack Heyman.
Sipping a sunset cocktail at Cityscape, from its sleek perch on the 46th floor of Hilton San Francisco Union Square  is an unparalleled celebratory high, an affordable way to access a priceless 360 degree panorama of this legendary city by the bay. For me, it was the scenically orchestrated opening to my San Francisco Staycation, and as I looked through the evening's rose gold hues toward the East Bay hills of my home, I felt far away and free of cares!
Story and Photos by John Sundsmo.
"Hurry up and drop your bags. We've been waiting for you", urged Jersey Tom from the door of a white van. Thinking we were on time, but observing a full van, my wife and I quickly dropped our bags in the lobby of The Applewood Inn and rushed to take our seats. After our leisurely drive from San Francisco to Guerneville neither of us expected to be late for our Russian River rendezvous with friends, wine, river, trails, kayaks, art, cuisine and more wine. Positioned in the Sonoma Coast AVA, the Pinot Noir grown, crushed, fermented and aged (French Oak) in the Russian River Valley has its very own unique award winning features that are well known to judges and connoisseurs alike, (the Chardonnay is also star quality). We had a long weekend ahead of us with plans to enjoy it to the max.  AND, Yes! The Russian River, survivor of fires and floods, is fully open for business, with the river inner tube rafting just starting. Lucky for us,  it is not too busy yet.
Carrizo Plain Gold – Sunrise to Super Bloom
Story and Photos by David A. Laws.
I pulled my jacket close against the chill stirring of an early breeze. A heavy silence enveloped the world in the final darkest minutes before dawn. To the east, a gray sliver of pending morning peeked from beneath a band of straggling clouds to silhouette the rugged crest of the Temblor Range. Planning a day exploring the Carrizo Plain, I had risen early to drive 200 miles from my home in Pacific Grove to watch the sunrise and a promised floral Carrizo Plain Gold super bloom from this elevated spot at the northern entrance to the National Monument that has been called "California's Serengeti."
Selfieville is the New Family Friendly Fantasy Experience in Monterey
Story and Photos by David A. Laws.
If you feel nostalgic for those psychedelic lightshow/rock concerts of the 1960s, Selfieville a new attraction in downtown Monterey offers a chance to relive your youth. But this time in a family friendly setting without those funny smelling cigarettes! If you're not old enough to know what I am talking about, imagine a journey through a fantasy world created with a phalanx of high-tech 3D projectors that transform a theater's static walls into a magical experience.
Monterey Peninsula: A Movie Star for the Ages
Story and Photos by David A. Laws.
Location. Location. Location. The real estate promoter's mantra applies equally to the magicians of the silver screen. Many Hollywood faces long faded from public consciousness appeared in dramas that continue to resonate today because of their memorable scenic settings. Monterey County has been a favorite of movie directors for the variety and accessibility of its scenery since Edison's cameraman shot Surf at Monterey in 1897. Pounding surf, brooding forest, rugged wilderness, and verdant valleys have featured in hundreds of movies and countless TV shows and commercials. It has also doubled for the coasts of New England, old England, France, Norway, Russia and beyond. Being a dedicated film buff, I grabbed a front row seat, sans popcorm. for a matinee showing of Monterey Peninsula, a movie star for the ages.
Santa Rosa -From the Pool to the Table
Story and Photos by Stephanie Levin.
Like a beacon of good will that is anchored in the history of a bygone era, the Flamingo Hotel  Spa and Conference Center, located in Santa Rosa, California, has been welcoming guests since 1957. Two years after it opened, word sifted south to Hollywood and "those in the know" traveled north to stay in the famed hotel. Today this  historic landmark has retained old-world charm with 21st Century modernity. Located in the heart of Sonoma Wine Country, travelers, families, weekend escapees and conferences attendees mingle over breakfast, swim in the enormous outdoor L-shaped pool, lounge in the  garden Jacuzzi, or treat themselves to spa, tennis or dining – literally from the pool to the table. As I relaxed outside under a dreamy spacious sky, surrounded by sycamore and cedar trees,  a sense of well-being and contentment sifted over me.
Monterey's Mosaic Mural Memorializes Missions, Marauding Mariners & More
Story and Photos by David A. Laws.
With more Mexican-era adobe buildings preserved and restored in downtown Monterey than anywhere else in the state, the city is proud of its heritage as the early capital of California. In late 2018, I revisited two public projects that have been recently updated and enhanced to present in novel and interesting ways the dramatic events that have shaped the history of the city.
Point Reyes San Francisco Escape
Story by Lee Daley.
Photos by John Williamson & Lee Daley.
We are blessed in the San Francisco Bay Area with the stunningly beautiful Point Reyes National Seashore, a mere hour drive from most locales.  The atmospheric community of Point Reyes Station, described below, should be your first stop.  It's ground zero for everything you'll need to make your getaway a true escape.
Paul Gauguin's Spiritual Journey Now at the de Young Museum in San Francisco
Story and Photos by Stephanie Levin.
French painter and Post-Impressionist, Paul Gauguin, cultivated and inhabited two images, one a sensitive artist, the other a self-imposed outcast, and in Gauguin: A Spiritual Journey, currently on exhibit at the De Young Museum in San Francisco, (November 17, 2018-April 7, 2019) the viewer experiences Gauguin's spiritual journey through both his paintings and sculptures. The exhibit, which includes paintings, wood carvings and ceramics are from the renowned Ny Glypotek collection in Copenhagen.
John Steinbeck: "Something to do in Salinas"
Story and photos by David Laws. "There was always something to do in Salinas. For pure culture we had The World of Art, with slides in a big tent with wooden benches" but, as Nobel Prize-winning writer John Steinbeck quipped in a 1955 memoir of his hometown, "the town preferred to hear Joe Conner sing Irish songs." (Always 59)
Miles from Nowhere is just fine in Upper Lake County
Story and Photos by Stephanie Levin
We, who live in the Bay Area, have a tendency to boast about our place on the planet. You know the hype: great chefs, culinary creativity, culture galore, three recycling bins, green bike lanes, entitlement…need I continue? To escape all this glamour, I'm constantly scouting for a weekend escape to settle myself, simplify my senses, get away from it all. Alas, Upper Lake County, cloaked in natural splendor and grace with just enough elegance rubbing elbows with salt of the earth people, is that place.
Find Your Happy in Mendocino County
By John Sundsmo.
The catchy logo of Mendocino County, "Find Your Happy," was on display at the recent Taste of Mendocino  held at San Francisco's Fort Mason. With vintners, fresh press olive oils, craft whiskey, goat cheeses, gourmet appetizers, coffee and luxurious resorts all competing for my attention, I soon found myself feeling quite happy. The venue provided a good opportunity to review some fine Mendocino County wines and upcoming events. In the interest of sharing the Mendocino "Happy" vibe, what follows is a list of some Taste of Mendocino participants (with links), along with wine tasting destinations and a short calendar of upcoming events in Mendocino County.  Hopefully, with the following tips, you too will "Find your Happy in Mendocino County."
Napa Valley's Liana Estates Opens
Story by Lee Daley with Photos by John Sundsmo and Lee Daley
Napa Valley's Carneros AVA adds another winery to its map with the opening of Liana Estates. The winery fulfils a long cherished dream of its founders, Lisa and Ariana Peju of the Peju Province Winery family. Liana Estates is an experience-focused winery providing visitors with immersive experiences that embrace each of the five senses. The focus will be on offering an ever-changing selection of high-quality wines and bubbly while connecting visitors to the breathtaking scenery of Napa Valley and San Pablo Bay. This fall, several immersive experiences will include wellness activities like yoga, culinary classes and chef-centric vineyard dinners paired with wine selections. While these experiences are growing in popularity in Wine Country, Liana is eager to offer guests unique all-inclusive experiences that both stimulate and soothe the senses.
Best Places to Kiss in San Francisco
Story and Photos by Stephanie Levin
"It's in his kiss, that's where it is." Yes, indeed, that zingy sensation causing our hearts to turn somersaults is in a kiss. And if you're lucky enough to be in San Francisco for Valentine's Day, the romantic city where Tony Bennett left his heart, here's eight of the best places to kiss.
Story and Photos by John Sundsmo
"You're moving where? – Willits – where's that?," my museum guide, Dirk, told me his personal story as he shuffled me around the County Museum and Roots of Motive Power exhibits and gave me a thumbnail history. It seems Dirk's friends in Santa Rosa didn't understand his decision to up and move to Willits more than 25 years ago, nor did they, or I, really appreciate what that quiet, friendly little Mendocino County town has to offer.  I learned from Dirk that Willits, in the early 1900s, was a whistle stop on the Northwestern Pacific railroad line. The trains started with a railroad ferry from the Hyde Street Pier in San Francisco and steamed north to Sausalito to join with rails that ended hundreds of miles away in the booming lumber town of Eureka.
Road to Death Valley Meditation
Story and Photos by John Sundsmo
Symbolic of new beginnings and new life, wild flowers are just beginning to be seen in the deserts of California. While experts don't expect another super-bloom like 2016, the heavy winter rains will undoubtedly bring abundance of color late into April. No place is more emblematic of life resurrected than Death Valley where blooms are already showing in the southern regions of the national park. To dodge the wild flower traffic, my wife and I visited the park in December and collected some tips.
Story and Photos by Lee Daley
It's early morning and I have spent the last 10 minutes admiring the light and shadows on a small brave bush somewhere alongside the road to Furnace Creek in Death Valley, a place my husband and I have come to de-stress and transition into the new year. This is a mystical place that has long inspired artists and awe. Driving through the valley's lunar landscape, we find ourselves slowly banishing thoughts of schedules, appointments and deadlines. What seemed like an impending crisis back home now feels like a ridiculously insignificant issue in the grandness of this other-worldly moonscape. "Oh goody," I say, as I send one more of these annoyances out into the universe.
Story and Photos by John Sundsmo
A memorable few years ago my wife and I visited the Greek islands of Santorini and Paros. There we encountered some unique and equally memorable ancient varieties of Greek wines.
Pacifica: the beaches are only the beginning
Story and Photos by Lee Daley
I've always known Pacifica's coastline boasts just about the best and most diverse five-mile span of beaches in Northern California. I thought I knew it well. Until I extended my usual day-trip to two nights and three days in this quintessential surfer haven beach town, I had no idea how much I was missing. I soon discovered the beaches are only the beginning.