Cruising France's Canal du Midi aboard European Waterways' Barge Anjodi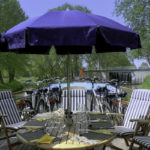 Story by Carol Canter with Photos by Jack Heyman
Floating by barge through France's canal-laced countryside underscores the pleasures of dining on meals prepared from fresh locally-sourced ingredients. Our first lunch onboard the 8-passenger Anjodi made this abundantly clear. The buffet was no less than a delectable culinary map of the surrounding Languedoc region in the south of France, featuring a beautiful salade niçoise (from Nice) with red mullet; tielle – an octopus pie from the neighboring seaport of Sète; brandade de morue — a salt cod and olive oil paste; warm rocket, potato and mussel salad; green salad; and a pissaladière — a provençal pizza made with anchovies, olives and onions.
Burgundy Canal aboard European Waterways' La Belle Epoque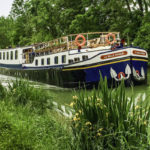 Story by Carol Canter with Photos by Jack Heyman and Carol Canter
La Belle Epoque, European Waterways' six-room floating boutique barge hotel, cruises the Burgundy Canal each week spring to fall between Tanlay and Venarey-les-Laumes. The 12 passengers who sign on will be taking a slow and sensual six-night journey from nowhere to nowhere. They could drive the same distance – 40 miles – in no time, but what illuminating and palate-pleasing experiences would be missed. For a cruise aboard La Belle Epoque is slow travel at its finest, a luxurious opportunity to explore the legendary landscape of Burgundy, France's renowned wine region, as a staff of experts feeds your mind, body and soul….
Floating the Loire River Canal on the Renaissance Barge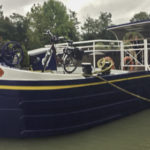 Story and Photos by Jacqueline Harmon Butler
"Madame, would you like another glass of Champagne?" "Oh yes," I replied with a smile, holding out my Champagne flute in one hand and taking another of the delicious tidbits being passed around with the other. We were welcomed aboard the Renaissance Barge by Captain Hadrien Famy and introduced to his crew of four which consisted of two hostesses, Dani and Nicole, chef….
Exploring the Cheshire Ring Canals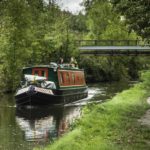 Story and Photos by John Sundsmo
Exploring the Cheshire Ring Canals: "Wheer yo' fro'?" said the man in tweed as he and his spaniel blocked my canal path.  Quickly twisting the words in my mind, I deduced he either properly identified me as a foreigner or he thought I was a local and wondered where I was walking from.  Taking the last first, I answered "Bugsworth Basin."  Now he had me, my California through-the-nose accent was a dead giveaway.  "American are you?"  now in proper English.  "And you are from Lancashire,?"  I said. "Aw'r (I were) but now I live here near Disley."…
A Mekong River cruise aboard RV AmaDara
Story by Carol Canter with photos by Carol Canter and Jack Heyman.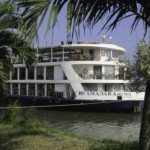 On a Mekong River cruise, we meandered along Asia's "Mother River," from Vietnam into Cambodia in late March aboard the AmaDara, visiting floating markets and riverside villages where houses rise on stilts. We moored overnight in Phnom Penh, Cambodia's capital city once considered the "Pearl of the Orient." Along the way we passed fishing boats of every stripe, fruit orchards and fish farms, pagodas and rice paddies–all sustained by the ebb and flow and unparalleled biodiversity of Southeast Asia's longest river. Even as we ventured forth to visit a glorious gilded palace, historic Buddhist monastery, and small craft workshops producing silk, copper, candy or woven rattan mats, we relished the return to the air-conditioned comfort of our beautiful AmaDara, greeted with a chilled hand towel and a cold drink. AmaWaterways' new ship–its woodwork gleaming and staterooms spacious–was launched in mid-2015 to cocoon its 124 passengers in comfort on a  seasonal 7-Night Mekong River cruise between Ho Chi Minh City (Saigon) and Siem Reap (gateway to Angkor Wat), on journeys billed as "Vietnam, Cambodia and the Riches of the Mekong."  Rich it was.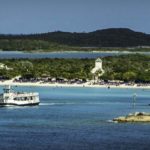 Story and Photos by John Sundsmo
"Welcome to Half Moon Cay population 45, five miles long and 2.5 wide" our Bahamian nature guide said. As she led our small group off the sandy road into the island's dense shady vegetation, we had periodic glimpses of white sand beaches, lagoons and our cruise ship lying offshore. Walking in the balmy warm weather, we knew we'd made the right decision….