Story and Photos by Carol Canter.
The banks of the Nile looked golden in the late afternoon sun. A lone figure wearing a white turban and jellabiya robe knelt toward Mecca in prayer. A passing felucca (boat) cast an abstract reflection of its white sails in the rippling Nile waters. Women robed and hooded in black stooped to fill large earthenware jugs with water, then rose to take them home atop their heads.
Inside Alaska's Inside Passage
Story and Photos by David A. Laws.
More than two million visitors a year traverse the great marine highway of Alaska's Inside Passage in the warmth and comfort of vast floating resorts. A bus ride to a glacier or a quick helicopter flight through a fjord is as close as many travelers get to the silence and solitude of "The Last Frontier." For those seeking a closer look at the inside of the Inside Passage, several operators offer small-ship cruises that combine wilderness excursions with rich cultural experiences in smaller communities.
Cruising Norway's fjords aboard Hurtigruten's ship Midnatsol
Story and Photos by Carol Canter.
With a 50th wedding anniversary to celebrate with family and friends and a life list of dream trips spilling over with Norwegian fjords, Roz and Irwin "B" of Santa Barbara, California chose a 12-night cruise aboard the Hurtigruten ship Midnatsol. So did a couple from Cologne Germany, who sailed with their four children and their families. The choice was the right one for them all, each a multi generational and well-traveled group that reveled in the adventure. The "B's" had traveled in Norway before, visiting a friend Roz had made 50 years prior. The couple had long dreamed of returning for a fuller exploration of Norway's fjords, the glacially carved inlets of water rated as "the world's most celebrated and iconic travel destination" by National Geographic Traveler.
Story and Photos by John Sundsmo.
A Yangtze River cruise was never high on my list of travel options, but it should have been. China in my mind's eye was distant, elusive and ancient – yes – but also under-developed and an emerging second world country. Oh, how wrong I was. After a few days on the Yangtze River with my wife and our travel companions, my incredible ignorance was corrected.
Cruising the Galapagos Islands with Ecoventura
Story and Photos by Carol Canter.
When my daughter was a young child, we learned the courtship dance of the blue-footed boobies at the Monterey Bay Aquarium. It was part of their "hands-on" — or was it "feet-forward"– children's program and I'll never forget it because it was hilarious fun … and educational. We faced one another, standing in the "footprints" of two boobies, and were guided through their dance, clicks, honks and all. Little did I know that decades later–while cruising the Galapagos Islands with Ecoventura–I'd recognize the dance steps of two real blue-footed boobies as they performed this stylized ritual on a rugged windswept island in Ecuador's Galapagos Islands chain.
Rhine and Moselle Fairytale Cruise from Amsterdam to Basel aboard AmaPrima.
Story by Carol Canter. Photos by Carol Canter and Jack Heyman.
My first Zumba class took place on the Sundeck of the Ama Prima, our beautiful Ama Waterways ship, as Captain Ron Schuegard piloted our 160-passengers and crew through the legendary Rhine Gorge. Wellness Host André Almeida led our group to "step to the left, step to the right, then circle slowly now using your sexy move." Latin music and the breeze energized us, as we surrendered to the rhythm and the scenic splendor. Dazzling it was, viewing turreted castles — even a few picturesque ruins — strategically built atop craggy hilltops or vineyard-terraced inclines.
Yucatán immersion cruise: culture, history, archeology and cuisine.
Story and Photos by John Sundsmo.
Taking a page from Anthony Bourdain: "Travel is not reward for working, it's education for living." For me, who had never visited the Yucatán, my notions of luxury beach resorts or dense jungles filled with vine-encrusted Mayan pyramids and relics of lost civilizations needed some travel-education. As I found out, neither notion was completely correct and there is a lot more than just archeology and beaches in the Yucatán. My wife and I opted for a wide-ranging Yucatán immersion cruise-safari offered by Victory cruise line. Our Yucatán outreach safari took us from the Caribbean in the east across the full width of the Yucatán peninsula to the Gulf of Mexico in the west.
Mexico's Yucatan: Deep into Mayaland with Victory Cruise Line
Story and Photos by Lee Daley.
Once accessible only by sea, Mexico's Yucatán is a place steeped in history. Here, both Mayan traditions and modern life flourish peacefully in a setting of architectural and natural beauty. Some of the most wonderful ways to experience the true Yucatan are to stay at a traditional inn, spend time with a Mayan shaman, swim in a cenote, visit a hacienda, explore ancient ruins and dine on Mayan and Mexican cuisine in a candle lighted cave. My spouse and I have just returned from a eight day intensive exploration of the highlights of an upcoming land/sea voyage with Victory Cruise Lines, colloquially dubbed the "thinking person's cruise choice."  Our Yucatán outreach safari stretched from the Caribbean coast in the east to the Gulf of Mexico in the west in this first of the cruise line's five land and sea forays into Mexico's Yucatán Peninsula.
Slow and Easy for a Barge Cruise in Burgundy
Story and Photos by Jacqueline Harmon Butler. Taking things slow and easy was Tina Turner's advice in her song "Proud Mary." Well, I'm taking her suggestion these days and the idea of a "slow and easy" barge cruise along the Northern Burgundy Canal on European Waterways barge La Belle Epoque sounded perfect. La Belle Epoque, built in 1930 to mainly carry lumber, is a barge of the Belgian spits category. Completely renovated in 1995, she currently cruises on the Burgundy Canal in central France.
Brac Island. Croatia: Sun, Sea and Stone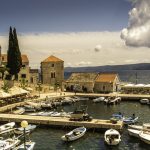 Story and Photos by Lee Daley.  In Croatia, aboard the Katarina Line Futura:  As we watched deckside, our small cruise ship anchored alongside the Dalmatian Coast shore of Brac Island and its Golden Horn Beach, known as one of Europe's most beautiful. Holding just 38 passengers, the Futura's compact size fits into ports large ships can't handle. Our eager group of sunbathers easily disembarked and clambered aboard small boats for the short ride to the coast line's golden sands. Once ashore, my companion and I decided to meander. Sunbathing could come later.
Croatia Island Cruise in the Adriatic Sea
Story and Photos by John Sundsmo.
"
There are more than a thousand Croatian islands in the Adriatic sea
" our
Katarina Line
cruise director told us, "
but we only have time to visit Korčula, Hvar and Brac. For more, you have to come back
." By the end of our short four night cruise, that is exactly what my wife and I hope to do – and hopefully soon. Spectacular white clouds filled the sky. Tranquil turquoise ocean water welcomed swimmers. Sparkling sandy beaches lured sun-bathers. Ancient Venetian forts and old cities with narrow cobblestone lanes beckoned walkers. Fine dining, fresh seafood and wonderful
Plavac Mali
; (Croatian pronunciation-
[plǎːʋat͡s mǎli]
), red, and
Pošip
, white, wines tickled and warmed the palate – what's not to like?
 Croatian Wine Tasting in the Dalmatian Islands
Story and Photos by John Sundsmo.
On a recent Katarina Line cruise of Croatian discovery, we learned that wine makers in the Dalmatian Islands have left an indelible mark on the fine wines produced in California, Australia, New Zealand and Chile. Remarkably, throughout wars, conquest and droughts, the islands of the Adriatic Sea, (East of Italy and South of the Alps), have produced fine wines for 2,500 years. Galleys and sailing ships transported that wine up and down the Mediterranean throughout Greek (500BC) and Roman times well into the 14th century. Greek writer Athenaeus wrote 18 centuries ago about the high quality of Croatian wine especially those coming from the islands of Hvar and Korčula.
Dinner at Sea with Holland America Line
Story by Lee Daley with photos by Lee Daley and John Sundsmo. "Where are we eating next?" became the favorite game my husband and I played during our brief four-night cruise from Ft. Lauderdale to Nassau aboard Holland America Line Nieuw Amsterdam.  Breakfast, lunch and dinner at sea gave us ample opportunity to sample the offerings of the Holland America Line kitchen and the ambience of its restaurants. Our cruise included two outings on land; one on Half Moon Cay, a private island owned by Holland America and the other a stop in port at Nassau. Except for lunch in those two ports, we hopscotched from one on-board eatery to the next. And in almost a dozen meals at sea, we never met with disappointment.
Cruising France's Canal du Midi aboard European Waterways' Barge Anjodi
Story by Carol Canter with Photos by Jack Heyman
Floating by barge through France's canal-laced countryside underscores the pleasures of dining on meals prepared from fresh locally-sourced ingredients. Our first lunch onboard the 8-passenger Anjodi made this abundantly clear. The buffet was no less than a delectable culinary map of the surrounding Languedoc region in the south of France, featuring a beautiful salade niçoise (from Nice) with red mullet; tielle – an octopus pie from the neighboring seaport of Sète; brandade de morue — a salt cod and olive oil paste; warm rocket, potato and mussel salad; green salad; and a pissaladière — a provençal pizza made with anchovies, olives and onions.
Burgundy Canal aboard European Waterways' La Belle Epoque
Story by Carol Canter with Photos by Jack Heyman and Carol Canter
La Belle Epoque, European Waterways' six-room floating boutique barge hotel, cruises the Burgundy Canal each week spring to fall between Tanlay and Venarey-les-Laumes. The 12 passengers who sign on will be taking a slow and sensual six-night journey from nowhere to nowhere. They could drive the same distance – 40 miles – in no time, but what illuminating and palate-pleasing experiences would be missed. For a cruise aboard La Belle Epoque is slow travel at its finest, a luxurious opportunity to explore the legendary landscape of Burgundy, France's renowned wine region, as a staff of experts feeds your mind, body and soul….
Floating the Loire River Canal on the Renaissance Barge
Story and Photos by Jacqueline Harmon Butler
"Madame, would you like another glass of Champagne?" "Oh yes," I replied with a smile, holding out my Champagne flute in one hand and taking another of the delicious tidbits being passed around with the other. We were welcomed aboard the Renaissance Barge by Captain Hadrien Famy and introduced to his crew of four which consisted of two hostesses, Dani and Nicole, chef….
Exploring the Cheshire Ring Canals
Story and Photos by John Sundsmo
Exploring the Cheshire Ring Canals: "Wheer yo' fro'?" said the man in tweed as he and his spaniel blocked my canal path.  Quickly twisting the words in my mind, I deduced he either properly identified me as a foreigner or he thought I was a local and wondered where I was walking from.  Taking the last first, I answered "Bugsworth Basin."  Now he had me, my California through-the-nose accent was a dead giveaway.  "American are you?"  now in proper English.  "And you are from Lancashire,?"  I said. "Aw'r (I were) but now I live here near Disley."…
A Mekong River cruise aboard RV AmaDara
Story by Carol Canter with photos by Carol Canter and Jack Heyman.
On a Mekong River cruise, we meandered along Asia's "Mother River," from Vietnam into Cambodia in late March aboard the AmaDara, visiting floating markets and riverside villages where houses rise on stilts. We moored overnight in Phnom Penh, Cambodia's capital city once considered the "Pearl of the Orient." Along the way we passed fishing boats of every stripe, fruit orchards and fish farms, pagodas and rice paddies–all sustained by the ebb and flow and unparalleled biodiversity of Southeast Asia's longest river. Even as we ventured forth to visit a glorious gilded palace, historic Buddhist monastery, and small craft workshops producing silk, copper, candy or woven rattan mats, we relished the return to the air-conditioned comfort of our beautiful AmaDara, greeted with a chilled hand towel and a cold drink. AmaWaterways' new ship–its woodwork gleaming and staterooms spacious–was launched in mid-2015 to cocoon its 124 passengers in comfort on a  seasonal 7-Night Mekong River cruise between Ho Chi Minh City (Saigon) and Siem Reap (gateway to Angkor Wat), on journeys billed as "Vietnam, Cambodia and the Riches of the Mekong."  Rich it was.
Story and Photos by John Sundsmo
"Welcome to Half Moon Cay population 45, five miles long and 2.5 wide" our Bahamian nature guide said. As she led our small group off the sandy road into the island's dense shady vegetation, we had periodic glimpses of white sand beaches, lagoons and our cruise ship lying offshore. Walking in the balmy warm weather, we knew we'd made the right decision….