Mendocino Coast Adventures: Wine, Food and So Much More
Story and Photos by Deborah Grossman.
Mendocino is 1.4 times larger than my home state of Delaware. This may explain why I am always awed by the grandeur of the geography and diversity of landscapes each time I visit Mendocino County. On this trip to the Mendocino coast with my spouse, we stayed in the tiny hamlet of Elk located on a bluff overlooking a driftwood strewn beach. We drove north past rock outcroppings known as sea stacks through Albion and Little River to explore the picturesque village of Mendocino.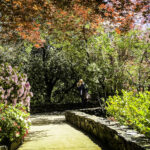 Story and Photos by Lee Daley.
When it comes to year-round activity, Calaveras County, a 2.5-hour drive from anywhere in the San Francisco Bay Area, has it all. Truly a place for all seasons, this is where outdoor activities, wine tasting, fine dining and just plain "fun in the sun" thrive. Here in the Sierra Nevada Foothills, you'll find more ways to unwind than you can shake your bathing suit at. And to unwind any time of day, the county's prize-winning wineries beckon. One thriving community with the unique moniker of Murphys boasts more than two dozen wine tasting venues along its downtown promenade. Take in its art galleries. Attend live theater events. Or stroll through its green community park with its bridge-covered creek and shaded picnic tables. Add in free summertime concerts in the park. Calaveras County beckons.
Calaveras County for Mining, Hiking, Biking, Wining, Dining, Fishing, Camping and Jumping with Mark Twain's Frogs.
Story and Photos by John Sundsmo.
Gold country in the Sierra mountain foothills is just a two-and-a-half-hour drive from San Francisco. For my wife and I, a Calaveras County roadtrip was a big question mark. Having been, we now know that Calaveras County has a gold and copper mining history, but today is a mecca for hiking, biking, wining, dining, golfing, fishing, camping, river rafting, gold panning, spelunking, and even vodka, gin and whiskey tasting at a local distillery. With a group of friends from San Francisco, we traveled to Calaveras for an education. We experienced quality wines, amazingly grand vineyards, gourmet dining, a beautiful local country club, and quality lodging. We viewed stunning old-growth forests and many artistic renditions of Mark Twain's jumping frogs of Calaveras County. So, for our next road trip, instead of turning North to Healdsburg, Napa, or Sonoma, we can now consider, instead, a turn to the East to revisit Calaveras, particularly since there is so much there to do and see that invites further exploration.
All Aboard to Napa On One Train and Two Wineries
Story and Photos by Deborah Grossman.
Onboard the Napa Valley Wine Train, the staff welcomed us with a refreshing "Napa Valley breakfast," a mimosa with cranberry juice. As we relaxed into the rhythmic pace of the journey and gazed at miles of verdant vineyards, I felt gratitude for the peaceful ambiance compared to the valley's frequent traffic and bustling tourist scene.
Get Acquainted with Carneros Wine Country: Chill Out and Enjoy the View
Story and Photos by Deborah Grossman.
"The Carneros wine region is like Switzerland," said Jon Priest, General Manager and Winemaker at Etude winery. "Carneros straddles the southernmost Napa and Sonoma wine countries. Our estate vineyard is on the Sonoma side and our tasting room is in Napa. Much like Switzerland, we need to remain neutral as to which area makes the best wine." Many visitors to wine country have driven through Carneros without realizing the area has long merited its own American Viticultural Area (AVA) designation. The official name of Los Carneros, meaning The Rams, refers to the region's heritage of sheep ranches and dairy farms.
San Francisco's Top of the Mark reopens with new tasting experiences.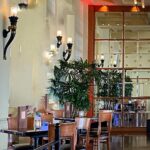 Story and Photos by Lee Daley.
San Francisco's Top of the Mark is now celebrating its reopening with new tasting experiences. The iconic 19th-floor penthouse lounge atop the Mark Hopkins Hotel has added a new "Vodka Expressions" curated tasting menu.  New too is the Friday evening live DJ music session from 4:30 to 9:30 PM. What hasn't changed are the 360-degree views of the San Francisco skyline seen from every window. Returning patrons and new guests can still unwind in the elegant ambiance of the 19th-floor penthouse lounge.
The Top of the Mark, an iconic landmark, is reopened.
Story and Photos by John Sundsmo.
First opened in 1939 and open for 80 years, this iconic San Francisco landmark was closed by the Covid-19 pandemic. It was a comfort zone for servicemen and women shipping out to the Pacific in World War II, also the Vietnam and Korean wars. As my wife and I recently discovered, the venerable Top of the Mark is reopened with a new generation of comforts. Positioned at the very top of downtown San Francisco's highest hill (Nob Hill), the 19th floor of the Mark Hopkins hotel, affectionately known as the Top of the Mark, has given patrons dominant views of San Francisco since its opening. The newly reopened Top of the Mark offers post-pandemic comforts including live music with dancing on Friday nights, light appetizers and, signature cocktails. To support and nurture local businesses, the menu now includes cocktails prepared with Hanson organic wine-Vodka from Sonoma, which is paired with Kollar specialty chocolates from Napa.
Monferrato— A unique wine landscape of Piedmont, Italy
Story and Photos by Deborah Grossman.
When friends ask me to choose my favorite region of Italy, I never hesitate. It is always Piedmont. This usually provokes two responses. What about Tuscany? Or, what's to see in Piedmont? Friends who like Italian wine respond differently. "Ah, the land of Barbera and Nebbiolo wines. I've always wanted to go there." I love all of Italy from the northern reaches of Alto Adige where German is spoken to the wide expanses of Puglia on the Adriatic Sea. But Piedmont holds my heart. In addition to presenting outstanding wines, the region extends warm hospitality and beautiful landscapes. After a trip four months before the pandemic began, I bonded even more strongly with Piedmont. In the Monferrato area, we visited historic cities, tasted delicious food, stopped by wineries and explored areas designated as UNESCO heritage sites. Bottom line: I fell in love with Piedmont all over again.
Story and Photos by John Sundsmo.
"Hurry up and drop your bags. We've been waiting for you", urged Jersey Tom from the door of a white van. Thinking we were on time, but observing a full van, my wife and I quickly dropped our bags in the lobby of The Applewood Inn and rushed to take our seats. After our leisurely drive from San Francisco to Guerneville neither of us expected to be late for our Russian River rendezvous with friends, wine, river, trails, kayaks, art, cuisine and more wine. Positioned in the Sonoma Coast AVA, the Pinot Noir grown, crushed, fermented and aged (French Oak) in the Russian River Valley has its very own unique award winning features that are well known to judges and connoisseurs alike, (the Chardonnay is also star quality). We had a long weekend ahead of us with plans to enjoy it to the max.  AND, Yes! The Russian River, survivor of fires and floods, is fully open for business, with the river inner tube rafting just starting. Lucky for us,  it is not too busy yet.
Colchagua Valley in Chile: not only for wine-sipping
Story and Photos by Libor Pospisil. When I stepped onto the wooden viewing platform on Cerro Chaman, I could see the deep, wide valley right below me, covered with countless vineyards. The valley, surrounded by long ranges of dry hills and heated by the March sun, meandered off into the distance. No wonder this part of the Colchagua Valley supplies the photographs that are used for promoting Chile as a wine destination, but I discovered it is not only for wine-sipping.
Santa Rosa -From the Pool to the Table
Story and Photos by Stephanie Levin.
Like a beacon of good will that is anchored in the history of a bygone era, the Flamingo Hotel  Spa and Conference Center, located in Santa Rosa, California, has been welcoming guests since 1957. Two years after it opened, word sifted south to Hollywood and "those in the know" traveled north to stay in the famed hotel. Today this  historic landmark has retained old-world charm with 21st Century modernity. Located in the heart of Sonoma Wine Country, travelers, families, weekend escapees and conferences attendees mingle over breakfast, swim in the enormous outdoor L-shaped pool, lounge in the  garden Jacuzzi, or treat themselves to spa, tennis or dining – literally from the pool to the table. As I relaxed outside under a dreamy spacious sky, surrounded by sycamore and cedar trees,  a sense of well-being and contentment sifted over me.
Chardonnay & Croquet at Sonoma Cutrer Winery
Story by Lee Daley with Photos by John Sundsmo and Lee Daley
Sonoma County is known for its excellent Chardonnay wines and those produced at Sonoma Cutrer Winery are no exception. Tucked away on a lush hillside in Windsor, Sonoma Cutrer may be one of the few places in Sonoma where you can play croquet and indulge in a picnic on beautifully manicured tree-shaded grounds all in the same day.  My spouse and I went for the wines and the picnic but took a slice at swinging the croquet mallet for good measure.
Croatian Wine Tasting in the Dalmatian Islands
Story and Photos by John Sundsmo.
On a recent Katarina Line cruise of Croatian discovery, we learned that wine makers in the Dalmatian Islands have left an indelible mark on the fine wines produced in California, Australia, New Zealand and Chile. Remarkably, throughout wars, conquest and droughts, the islands of the Adriatic Sea, (East of Italy and South of the Alps), have produced fine wines for 2,500 years. Galleys and sailing ships transported that wine up and down the Mediterranean throughout Greek (500BC) and Roman times well into the 14th century. Greek writer Athenaeus wrote 18 centuries ago about the high quality of Croatian wine especially those coming from the islands of Hvar and Korčula.
Miles from Nowhere is just fine in Upper Lake County
Story and Photos by Stephanie Levin
We, who live in the Bay Area, have a tendency to boast about our place on the planet. You know the hype: great chefs, culinary creativity, culture galore, three recycling bins, green bike lanes, entitlement…need I continue? To escape all this glamour, I'm constantly scouting for a weekend escape to settle myself, simplify my senses, get away from it all. Alas, Upper Lake County, cloaked in natural splendor and grace with just enough elegance rubbing elbows with salt of the earth people, is that place.
Find Your Happy in Mendocino County
By John Sundsmo.
The catchy logo of Mendocino County, "Find Your Happy," was on display at the recent Taste of Mendocino  held at San Francisco's Fort Mason. With vintners, fresh press olive oils, craft whiskey, goat cheeses, gourmet appetizers, coffee and luxurious resorts all competing for my attention, I soon found myself feeling quite happy. The venue provided a good opportunity to review some fine Mendocino County wines and upcoming events. In the interest of sharing the Mendocino "Happy" vibe, what follows is a list of some Taste of Mendocino participants (with links), along with wine tasting destinations and a short calendar of upcoming events in Mendocino County.  Hopefully, with the following tips, you too will "Find your Happy in Mendocino County."
Story and Photos by John Sundsmo
A memorable few years ago my wife and I visited the Greek islands of Santorini and Paros. There we encountered some unique and equally memorable ancient varieties of Greek wines….
Napa Valley's Liana Estates Opens
Story by Lee Daley with Photos by Lee Daley and John Sundsmo
Napa Valley's Carneros AVA adds another winery to its map with the opening of Liana Estates. The winery fulfils a long cherished dream of its founders, Lisa and Ariana Peju of the Peju Province Winery family. Liana Estates is an experience-focused winery providing visitors with immersive experiences that embrace each of the five senses. The focus will be on offering an ever-changing selection of high-quality wines and bubbly while connecting visitors to the breathtaking scenery of Napa Valley and San Pablo Bay….
Lake County:  Northern California's Sweet Spot
Story and Photos By Lee Daley
Drive a few hours north of downtown San Francisco and a different world awaits. On a recent weekend getaway, my city stress lessened and lessened, almost in layers, and finally just plain disappeared once my amble north landed in the land of lakes, aptly named Lake County. With dormant winter chill now giving way to warmer, sunnier days, I found a haven of rolling hillsides and emerald green valleys nestled in the grandeur of mountainsides. Grape vines and trees are just starting to open their buds, lake fishing looks good and goats in the valleys are having their kids…..
Story and Photos by Stephanie Levin
When Frances Mayes' book, Under the Tuscan Sun, became an overnight success, traveling to Tuscany became De rigueur. But with an aversion to following crowds, I circumvented Italy in my travels. Then a year ago, I would wake up in sweat dreaming about Italy; I dabbled in Italian, and listened to opera. Eventually, I bought a ticket to Italy fully aware I was not going to have a Frances Mayes experience-no Italian lover whisking me off for a brief tryst, nor a perfect villa with a view of paradise…..
A mythological wine tasting with Georgós Nu Wines
Story and Photos by Lee Daley
 "Come. Taste my wines and experience the glory of Greece." So said Georgós Zanganas, company founder of Georgós Nu Wines. And so our small group of wine lovers gathered in San Francisco to listen to the myths and taste the wines made from grapes organically grown and fermented in Greece on family land. We dined on complimentary bites accompanied by tastings of his five premium varietals, each symbolically named for iconic Greek islands and gods. I was fascinated with the homage given to the gods of Georgós homeland as much as I savored the uniquely palatable tastings.