John Clare Country: the bucolic landscape for the most famous English Peasant Poet you've never heard of
Story and Photos by David A. Laws.
Byron, Keats, Wordsworth – for a few brief months in 1820, when his first book of verse topped the English best seller list, John Clare, who worked as a farm laborer near Peterborough 80 miles north of London, outsold them all. Hailed as the "Peasant Poet" by London society for his vivid descriptions of landscapes and English rural life, fickle popular taste rejected his more accomplished later works. Much of his work was inspired by the natural landscape of what is now known as John Clare Country.
Exploring the Cheshire Ring Canals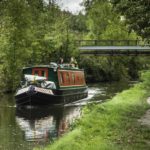 Story and Photos by John Sundsmo
Exploring the Cheshire Ring Canals: "Wheer yo' fro'?" said the man in tweed as he and his spaniel blocked my canal path.  Quickly twisting the words in my mind, I deduced he either properly identified me as a foreigner or he thought I was a local and wondered where I was walking from.  Taking the last first, I answered "Bugsworth Basin."  Now he had me, my California through-the-nose accent was a dead giveaway.  "American are you?"  now in proper English.  "And you are from Lancashire,?"  I said. "Aw'r (I were) but now I live here near Disley."
A Dylan Thomas Pilgrimage in Wales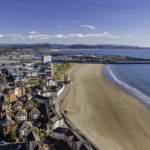 Story and Photos by Monique Burns
With velvety green hills and dells, craggy mountains and moon-shaped bays, sandy estuaries dappled with cockles and mussels and miles of coast lapped by wave-struck seas, Wales has inspired countless writers, dramatists and musicians. Perhaps the most legendary of all was native son Dylan Thomas, author of lyrical classics like "Fern Hill" and "Under Milk Wood."
Road tripping in the Scottish Highlands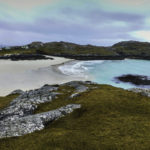 Story and Photos by Monique Burns
Road tripping through the Scottish Highlands. Framed by lofty mountains and etched by trickling burns and rushing rivers, the Scottish Highlands cover roughly 10,500 square miles, about the size of Massachusetts. Herds of wild Scottish red deer, domesticated sheep and somewhat tame Highland cattle, great lumbering beasts with long pointy horns and shaggy red and blond coats, people its vast undulating moors.