A Mekong River cruise aboard RV AmaDara
Story by Carol Canter with photos by Carol Canter and Jack Heyman.
On a Mekong River cruise, we meandered along Asia's "Mother River," from Vietnam into Cambodia in late March aboard the AmaDara, visiting floating markets and riverside villages where houses rise on stilts. We moored overnight in Phnom Penh, Cambodia's capital city once considered the "Pearl of the Orient." Along the way we passed fishing boats of every stripe, fruit orchards and fish farms, pagodas and rice paddies–all sustained by the ebb and flow and unparalleled biodiversity of Southeast Asia's longest river. Even as we ventured forth to visit a glorious gilded palace, historic Buddhist monastery, and small craft workshops producing silk, copper, candy or woven rattan mats, we relished the return to the air-conditioned comfort of our beautiful AmaDara, greeted with a chilled hand towel and a cold drink. AmaWaterways' new ship–its woodwork gleaming and staterooms spacious–was launched in mid-2015 to cocoon its 124 passengers in comfort on a  seasonal 7-Night Mekong River cruise between Ho Chi Minh City (Saigon) and Siem Reap (gateway to Angkor Wat), on journeys billed as "Vietnam, Cambodia and the Riches of the Mekong."  Rich it was.
Immersed in the Diverse Cultures of Vietnam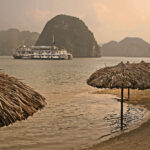 Story and Photos by Lee Daley.
While traveling from Hanoi to Saigon during the month of December, a time of warm and balmy weather, I felt completely immersed in the diverse cultures of Vietnam. On show everywhere, from art galleries to design centers, from colonial architecture to ancient wooden vessels plying the Mekong, from stunning cuisine, both Haute and humble, cultural diversity reigned.
Our Dreams of Vietnam. Part One
Story and Photos by Karen Misuraca and Jessica Misuraca
Mother and daughter, we embarked on a three-week tour of Vietnam with Intrepid Travel, expecting a tropical paradise, some good Pan-Asian food, and remnants and reminders of ancient civilizations and of the American war debacle. From the beaches of the South China Sea to the river towns of the Mekong Delta, from ancient Chinese traders' villages to Ho Chi Minh's hometown, we found all of that in a fragile, leafy, lovely kingdom, and a surprise––a veritable tidal wave of affection and hospitality from the Vietnamese.
Our Dreams of Vietnam. Part Two
Story and Photos by Karen Misuraca and Jessica Misuraca
Old Town of Hoi An:  Our Vietnam journey continues in Hoi An. A trading port established by the Portuguese in the 17th century, Hoi An is today a UNESCO World Heritage site on the banks of the Thu Bon River–about 800 buildings have been preserved, and many restored. So much to see here, from elaborate Buddhist temples to a 16th century Japanese bridge topped by a pagoda, brightly painted French colonial buildings, museum-like Japanese traders' houses, Chinese temples, and more evidence of the town's vibrant, multi-ethnic past.