Norway by train: across mountains and through time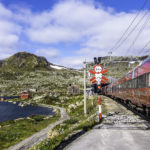 Story and Photos by Libor Pospisil.
Traveling through Norway by train, I boarded the coach at Oslo's Sentralstasjon (Central Station) and made myself comfortable in a cushy seat. But shortly after we departed, I realized that I would not be able to simply relax because I could not to stop looking out the window. The train began to pass by large lakes, then hills, meadows, lakes again, mountain plateaus, and, ultimately, glaciers. Every new panorama beat the previous one, establishing a pattern that kept the passengers in suspense. In fact, one fellow visitor told me after the journey that despite her severe jet-lag, she was afraid to fall asleep because she might miss some of the great views.
Bergen: Gateway to Norway's fjords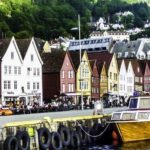 Story and Photos by Carol Canter.
Bergen was bathed in sunshine, turning our late afternoon arrival in Norway's second city into a Kodak moment. Painted wooden facades of historic quayside buildings glowed red, gold and brown against the surrounding green mountains, while Bergen's busy harbor sparkled, buzzing with activity. Outdoor cafes overflowed with people enjoying the warm summer late August day. Fishmongers at the market offered samples of succulent smoked salmon, while produce vendors displayed baskets of plump red raspberries bursting with sweetness. With its enviable natural setting, Bergen draws visitors to explore its seven mountains, fabulous fjords and a coastline dotted with thousands of islands.