Santa-bound for a holiday visit to Finnish Lapland
 Story by Carol Canter with  Photos by Jack Heyman.
Dashing through the snow, meeting Santa with his reindeer, and awaiting the Northern Lights; all this and more created Christmas magic for our family. Since Santa Claus is kind enough to pay a visit to our home each Christmas Eve, we decided to return the favor and visit him at his Arctic Circle workshop in Rovaniemi, the capital of Finnish Lapland.
Story and Photos by Stephanie Levin.
The first time I heard "My Father" lyrics by Judy Collins: "my father always promised me we would live in France, go boating on the Seine and learn to dance," I knew I would have a relationship with Paris. I recently dug out a photo of me on my first trip to Paris, posing on the ledge bordering the Seine, legs crossed, hair twisted up French style. I could not foresee then that I would live in France for some years and, upon each return, fall more passionately in love with Paris.
Granada, Spain is Now a Short Journey Away
Story and photos by Libor Pospisil.
It used to be hard to get to Granada. In 1829, Washington Irving described the roads as "little better than mule paths," winding "along dizzy precipices." Even in our century, visitors had to submit to longish rides by trains or buses since Granada sits at the foot of the Sierra Nevada mountains, deep in the interior of Andalusia in southern Spain. Despite the inconvenience, nearly three million made the journey to Granada every year, lured, of course, by the exotic scent of the Alhambra, the Islamic-era fortress that overlooks the city. The comfort of the journey improved dramatically in 2019 when a new high-speed train arrived in Granada. Even so, Granada, Spain has always been worth the distance. The visitor numbers, which already made the Alhambra the second most visited site in Spain, were destined to grow even further. But they did not because the pandemic struck.
Corsica Rond Point and the Stick Shift Saga
Story by Stephanie Levin.
Let me put my domestic and international driving record into perspective: it's perfect.  My foray into driving began with the family stick shift bouncing up the block until I got the hang of the clutch and gear coordination. Subsequently, all my cars have been powerful little manual gears. There's a connection with a stick shift you cannot obtain with an automatic. I love the regulation of speed, the windows rolled down, the breeze flirting with my imagination whether I'm downshifting through traffic-choked Mexico City, desolate Moroccan roads, or ripping around rond-points in Paris. Simply said, why any driver would opt for an uneventful automatic over a stylish stick shift is beyond me. That is until I recall my Corsica Rond Point and the Stick Shift Saga. (Rond-point is a roundabout.)
In Germany the Carl Duisberg Japanese Garden
Story and Photos by John Sundsmo.
A little green emerald gem lies buried within a sea of smoke stacks and chemical manufacturing plants at the Chempark home of Bayer AG in Leverkusen near Cologne (Köln) in Germany. Chempark is home to the little miracle of Bayer aspirin, but it had another surprise in store for me when I visited on a business trip a few years ago and came upon the Duisberg Japanese Garden.
Discovering the Treasures of Armenia
Story and Photos by Libor Pospisil. Like any other monastery in Armenia, Sevanavank occupies a spot that is dramatic and definitely Instagram-able. The 9th-century monastery sits on a rocky hill overlooking the gigantic Lake Sevan with mountains in the distance. That was the panorama that made me fall under Armenia's spell. But to get to that spell bound state, I needed to escape the Soviet-era boulevards of Yerevan, the country's capital. Unlike some other travel destinations, Armenia does not serve up its treasures on a silver platter. Instead, I had to look for them inside the un-glamorous buildings of Yerevan. But just a few-hour drive away, the reward was worth it.
Loire Valley: The True Heart of France
Story and Photos by Libor Pospisil. The Loire River passes slowly through Amboise. The old houses, the stony bridge, and, above all, the stunning Renaissance chateau on the cliff create an outrageously harmonic scene. Amboise is one of the small towns in the Loire Valley, the cultural region about three hours south of Paris. It attracts millions of visitors every year for its chateaus, wines, and bike paths. But the bucolic vibe of the Loire Valley, made up of calm waters, mild hills, lush forests, and golden fields, should not deceive our eyes. This is not a provincial outpost. Modern France emerged right here.  At the end of the 15th century Paris lacked its current grandeur and the small village of Amboise witnessed more than its fair share of historical events, including royal births, weddings, and deaths. No wonder the Loire Valley was named a UNESCO World Heritage Site.
Peggy Guggenheim: At Home in Venice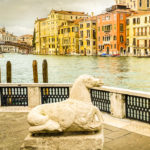 Story and Photos by Lee Daley. On the Grand Canal of Venice if you look carefully, you will see -–almost hidden, overshadowed as it is by  the multi-storied palatial homes along that waterway – a low white stone palazzo that belies the treasures held within. This was the home of Peggy Guggenheim, an American heiress and art collector who single-handedly saved modern art. Peggy Guggenheim is known for her art collection and her outrageously unconventional life. Many have called her risqué, a term with which she would most likely agree.  If Peggy Guggenheim had lived in our time, she would be the ideal candidate for a reality TV series—her expertise, her "shoot from the hip" dialogue and colorful personal lifestyle meant scandals stuck to her like paint on a canvas. Case in point: In the prim 50s, Peggy needed no beau to escort her into Harry's Bar for an evening cocktail. At her beck and call was her own private gondola propelled by her personal gondolier. He would ferry her along the canal and wait dockside while she savored a cocktail and took in the evening sunset: "If anything can rival Venice in its beauty, it must be its reflection at sunset in the Grand Canal." Peggy Guggenheim.
Story and Photos by John Sundsmo.
On an island in a shallow lagoon, Venice came to dominance by sea power and now the power of the sea is threatening its very existence. My wife and I arrived in Venice two weeks before the catastrophic Acqua Alta (high water) tides that submerged Saint Mark's square under more than five feet of water. The rushing sea wrought havoc with local merchants, restaurateurs and hostlers and damaged priceless works of art in Saint Mark's Basilica. Vladmiro Cavagnis, a fourth generation gondolier, said: "It's a city full of history. A history that, little by little, with water, will end up like Atlantis. People are destroyed, anguished, sad. They see a city that is disappearing." (Alex Horton, Andrew Freedman – The Washington Post –  November 15, 2019). The November 2019 flood was the worst in the 700 years of recorded history at Saint Marks Basilica.  Giuseppe Conte, the Italian Prime Minister, described the disaster as: "..a blow to the art of our country. While it's still too early to quantify the extent of its havoc, chances are it will leave indelible marks." (Marianna Cerini, CNN –  November 16, 2019 ).
Story and Photos by John Sundsmo.
Athens has long been a favorite of my wife and I, especially since it was our first international trip together as a couple. Somehow every time we land in Greece, Athens is only a stopover on our way to somewhere else. But why love Athens? For us, Athens is full of lovely historic sites, wonderful ethnic foods, good local wines and great cultural diversity.
T'bilisi, Georgia: a city of stone and glass
Story and Photos by Libor Pospisil.
"What is there to see?" That was the most frequent question when I told people about my upcoming trip to Georgia—the country—and T'bilisi, its capital. This sentiment is understandable given that Georgia began to emerge on travelers' maps a mere fifteen years ago after the Rose Revolution of 2003. The unique beauty of the country had therefore become a well-kept secret that leaked to the West only sporadically. In one such case, John Steinbeck reported from his Eastern European tour in 1948 that people were describing to him "the country in the Caucasus and the Black Sea…" as "…the second heaven."
Rhine and Moselle Fairytale Cruise from Amsterdam to Basel aboard AmaPrima.
Story by Carol Canter. Photos by Carol Canter and Jack Heyman.
My first Zumba class took place on the Sundeck of the Ama Prima, our beautiful Ama Waterways ship, as Captain Ron Schuegard piloted our 160-passengers and crew through the legendary Rhine Gorge. Wellness Host André Almeida led our group to "step to the left, step to the right, then circle slowly now using your sexy move." Latin music and the breeze energized us, as we surrendered to the rhythm and the scenic splendor. Dazzling it was, viewing turreted castles — even a few picturesque ruins — strategically built atop craggy hilltops or vineyard-terraced inclines.
Story and Photos by Jacqueline Harmon Butler.
Somewhere in the distance a church bell chimed the midnight hour. A heavy mist made visibility along the valley road challenging. Nearing our rendezvous site we spotted two small nondescript Italian cars hovering by the side of the road. The drivers flashed their lights at our mini-bus then, with a squeal of tires, sped off along the twisting country road. Our driver, not intimidated by their speed, followed closely behind as we bumped our way into the hills near Alba in the Piedmont region of northern Italy. We were on a midnight truffle hunt in search of the legendary "White Diamonds," tartufo bianco, or white truffles. At a market price of nearly $2,000 a pound, truffle hunters are willing to secretly go to amazing extremes to find and retrieve these incredible tubers.
Norway by train: across mountains and through time
Story and Photos by Libor Pospisil.
Traveling through Norway by train, I boarded the coach at Oslo's Sentralstasjon (Central Station) and made myself comfortable in a cushy seat. But shortly after we departed, I realized that I would not be able to simply relax because I could not to stop looking out the window. The train began to pass by large lakes, then hills, meadows, lakes again, mountain plateaus, and, ultimately, glaciers. Every new panorama beat the previous one, establishing a pattern that kept the passengers in suspense. In fact, one fellow visitor told me after the journey that despite her severe jet-lag, she was afraid to fall asleep because she might miss some of the great views.
Slow and Easy for a Barge Cruise in Burgundy
Story and Photos by Jacqueline Harmon Butler. Taking things slow and easy was Tina Turner's advice in her song "Proud Mary." Well, I'm taking her suggestion these days and the idea of a "slow and easy" barge cruise along the Northern Burgundy Canal on European Waterways barge La Belle Epoque sounded perfect. La Belle Epoque, built in 1930 to mainly carry lumber, is a barge of the Belgian spits category. Completely renovated in 1995, she currently cruises on the Burgundy Canal in central France.
Story and Photos by Stephanie Levin
Traveling alone for a woman affords multiple advantages: she meets people she would never mingle with when traveling with a companion, she depends on herself for all decisions from where to hang her hat to switching itinerary mid-trip, no discussion. There are small courteous conversations that erupt spontaneously over a painting, the weather, politics and this summer over the World Cup.  Yet, when lunch or dinner time arrives, what comes to mind is clinking glasses of wine, romance, toes touching under the table, or starry-eyed couples in love.
Croatia Island Cruise in the Adriatic Sea
Story and Photos by John Sundsmo.
"
There are more than a thousand Croatian islands in the Adriatic sea
" our
Katarina Line
cruise director told us, "
but we only have time to visit Korčula, Hvar and Brac. For more, you have to come back
." By the end of our short four night cruise, that is exactly what my wife and I hope to do – and hopefully soon. Spectacular white clouds filled the sky. Tranquil turquoise ocean water welcomed swimmers. Sparkling sandy beaches lured sun-bathers. Ancient Venetian forts and old cities with narrow cobblestone lanes beckoned walkers. Fine dining, fresh seafood and wonderful
Plavac Mali
; (Croatian pronunciation-
[plǎːʋat͡s mǎli]
), red, and
Pošip
, white, wines tickled and warmed the palate – what's not to like?
Bergen: Gateway to Norway's fjords
Story and Photos by Carol Canter.
Bergen was bathed in sunshine, turning our late afternoon arrival in Norway's second city into a Kodak moment. Painted wooden facades of historic quayside buildings glowed red, gold and brown against the surrounding green mountains, while Bergen's busy harbor sparkled, buzzing with activity. Outdoor cafes overflowed with people enjoying the warm summer late August day. Fishmongers at the market offered samples of succulent smoked salmon, while produce vendors displayed baskets of plump red raspberries bursting with sweetness. With its enviable natural setting, Bergen draws visitors to explore its seven mountains, fabulous fjords and a coastline dotted with thousands of islands.
 Croatian Wine Tasting in the Dalmatian Islands
Story and Photos by John Sundsmo.
On a recent Katarina Line cruise of Croatian discovery, we learned that wine makers in the Dalmatian Islands have left an indelible mark on the fine wines produced in California, Australia, New Zealand and Chile. Remarkably, throughout wars, conquest and droughts, the islands of the Adriatic Sea, (East of Italy and South of the Alps), have produced fine wines for 2,500 years. Galleys and sailing ships transported that wine up and down the Mediterranean throughout Greek (500BC) and Roman times well into the 14th century. Greek writer Athenaeus wrote 18 centuries ago about the high quality of Croatian wine especially those coming from the islands of Hvar and Korčula.
The Best Way To Travel Through Switzerland
Story by Carol Canter with Photos by Jack Heyman and Carol Canter
We looped through Switzerland on a 15-day Swiss Travel Pass in May, taking panoramic train journeys through legendary mountain passes, boat rides across shimmering silver lakes and cable car rides to postcard-perfect Alpine villages and peaks. With almost everything included in the Swiss Travel Pass – even museums and heritage sites – travel through Switzerland was seamless and easy to plan. Service was friendly, helpful and multilingual.
Why I love European Train Travel
Story and Photos by Jacqueline Harmon Butler
On my first trip to Europe many years ago, my sister Patty and I traveled around Ireland, England, Scotland, France and Switzerland via our Eurail Passes. I found standing in front of the big departure boards in the train stations thrilling. Something captivated me about those clicking sounds, and then new trains to magical places would appear with track and departure times. Knowing that I could board any one of those trains was a huge temptation. I loved the clicking sound. To me it sounded like adventure. To this day, I love European train travel.
A Lisbon Love Affair with a Famous Tart
Story and Photos by Wanda Hennig

 Pastéis de nata: Portugal's sweetest and most replicated tartlets. Versions of them tempt fans in cafés, tea rooms, coffee shops and bakery delis in cities around the world. Having tasted many while on a recent month-long trip roaming cities and towns running from Porto  to Faro  in the Algarve, I can unreservedly recommend a pilgrimage to the Belém neighborhood in Lisbon to sample "the original"—the one I would unhesitatingly say is the gold standard. The one I would wager a bet designating: best in the world. It was a chance discovery, as the best ones while traveling often are.
Story and Photos by Wanda Hennig.
A gastronomic walking tour takes us on a devouring orgy as we taste our way through ten of the central city's most authentic eateries. With it, I develop an enduring appetite for Lisbon. "Meet us at Praça Luís de Camões near Quiosque do Refresco. We will have a white bag with Lisboa Autêntica  logo."  I get the e-mail from Mafalda Pinto. She has lived and worked in Mozambique and Angola. Now she's living and working in Lisbon, running cultural and culinary tours.  I've asked her to sign me up for Lisboa Gastronómica —"gastronomic Lisbon"—a culinary exploration with tastings, as the name suggests……
Culinary Poland in the time of Chopin
Story and Photos by Wanda Hennig
When Fryderyk Chopin was born March of 1810, 29 miles west of Warsaw in Żelazowa Wola, in the annex of a manor house belonging to a count whose children Chopin's father, Nicolas, tutored, traditional Old Polish cuisine was the table of the day. Culinary Poland had remained basically the same since the 17th century.
Imagine Peace: Yoko Ono's "Wish Tree:" From Copenhagen to Iceland and beyond
Story and Photos by Lee Daley
If you should encounter a Wish Tree, this is Yoko Ono's suggestion: "Make a wish. Write it down on a piece of paper. Fold it and tie it around a branch of a Wish Tree. Ask your friends to do the same. Keep wishing until the branches are covered with wishes."
Budapest's Healing Mineral Baths mend mind, body and spirit
Story and Photos by Lee Daley
While there are many reasons to visit Hungary, including the fact that right now it is one of the best values in Europe, no visitor should leave the capital city of Budapest without indulging in an extended soak at one of its grand healing mineral bath houses.
How to Enjoy Free and Affordable Copenhagen
Story and Photos by Lee Daley
A true Epicurean knows when to save and when to splurge and it's easy to do both in Copenhagen, one of Europe's most elegant cities. By seeking out free and affordable opportunities without sacrificing quality you'll be able to set aside your Danish krone for those indispensable splurges found only in Copenhagen. Based on a recent stay, here are my top suggestions for a boundary pushing visit that won't break the budget.
Norway: Cruising, crab hunting and fine cuisine
Story by Monique Burns
In Norway, I signed on for Hurtigruten's six-day coastal cruise in late summer when the Midnight Sun stays high in the sky through much of the night.  After a couple of days in Oslo, treating myself to Edvard Munch's work at the National Gallery and the Munch Museum, and innovative New Nordic cuisine at waterfront Louise Restaurant & Bar and at Ekebergrestauranten high in the hills above the Oslofjord, I made the two-hour SAS flight north to Kirkenes, six miles from the Russian border….
Copenhagen: In "The Danish Girl's" Footsteps
Story and Photos by Lee Daley
When I sat down to watch the film, "The Danish Girl," I had no idea it would inspire me to travel to Copenhagen where I would walk the cobbled streets and explore the same Old Town waterfront where the film's fated artistic couple lived during the 1920s.

Paris Progressive Supper and Moveable Feast
Story and Photos by Jacqueline Harmon Butler
Ernest Hemingway called Paris a "movable feast," and I have always agreed with him. On my last night in Paris, I decided to have my own movable feast—a progressive supper, with each course in a different restaurant. I wanted the restaurants to be within walking distance from one another, the last one near my hotel in the 6th arrondissement. I was feeling a bit lonely and disappointed that I hadn't fallen in love with anyone this trip. I had already told my friends back home that this time I would meet that "special someone" while in Paris. Now, here I was, my last night in town, and still alone.
Burgundy Canal aboard European Waterways' La Belle Epoque
Story by Carol Canter with Photos by Jack Heyman and Carol Canter
La Belle Epoque, European Waterways' six-room floating boutique barge hotel, cruises the Burgundy Canal each week spring to fall between Tanlay and Venarey-les-Laumes. The 12 passengers who sign on will be taking a slow and sensual six-night journey from nowhere to nowhere. They could drive the same distance – 40 miles – in no time, but what illuminating and palate-pleasing experiences would be missed. For a cruise aboard La Belle Epoque is slow travel at its finest, a luxurious opportunity to explore the legendary landscape of Burgundy, France's renowned wine region, as a staff of experts feeds your mind, body and soul.
Cruising France's Canal du Midi aboard European Waterways' Barge Anjodi
Story by Carol Canter with Photos by Jack Heyman
Floating by barge through France's canal-laced countryside underscores the pleasures of dining on meals prepared from fresh locally-sourced ingredients. Our first lunch onboard the 8-passenger Anjodi made this abundantly clear. The buffet was no less than a delectable culinary map of the surrounding Languedoc region in the south of France, featuring a beautiful salade niçoise (from Nice) with red mullet; tielle – an octopus pie from the neighboring seaport of Sète; brandade de morue — a salt cod and olive oil paste; warm rocket, potato and mussel salad; green salad; and a pissaladière — a provençal pizza made with anchovies, olives and onions.
Story and Photos by Stephanie Levin
It's never about food. It's about the people who share your table, who invite you into the beautiful blessing of friendship, the profoundly social urge to share, a small mitzvah of psychological well being. I didn't fully grasp this concept until I moved to France; and even then, my American habit of adamantly requiring advance notice in lieu of spontaneity dictated dining, causing culinary chaos in my new marriage. "It's not about the food; it's the company," my husband reprimanded. So, I shouldn't have been surprised when my husband greeted me at the train station in La Rochelle, all smiles, a sack of mussels and an announcement: we would be having dinner in the backyard of our friend's home, Chez Didier, for my birthday. "C'est pas vrai!" I quipped, eyeballing the mussels.
Story and Photos by Elaine Koerner
Spotted any new (or should that be old?) faces of late while strolling the streets of Céret in Southern France? Before you say no, here are a few more details. These faces are acrylic, and they make their appearance on walls and the sides of buildings scattered round the town center. The artist behind the faces prefers to be known only as FAS. "I am very proud of our artistic history," explains FAS, who lives in Céret with his family. "I decided to create these portraits in tribute to a handful of the many painters and other artists who either were locals or else were drawn to Céret's charms as visitors. My portraits include both well-known and lesser-known painters." FAS has completed six so far, with three more in the pipeline. His portrait project got started more than a year ago after he received a thumbs up from the local town hall called Mairie in French.
Floating the Loire River Canal on the Renaissance Barge
Story and Photos by Jacqueline Harmon Butler
"Madame, would you like another glass of Champagne?" "Oh yes," I replied with a smile, holding out my Champagne flute in one hand and taking another of the delicious tidbits being passed around with the other. We were welcomed aboard the Renaissance Barge by Captain Hadrien Famy and introduced to his crew of four which consisted of two hostesses, Dani and Nicole, chef.