San Francisco's Top of the Mark reopens with new tasting experiences.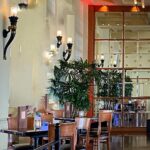 Story and Photos by Lee Daley.
San Francisco's Top of the Mark is now celebrating its reopening with new tasting experiences. The iconic 19th-floor penthouse lounge atop the Mark Hopkins Hotel has added a new "Vodka Expressions" curated tasting menu.  New too is the Friday evening live DJ music session from 4:30 to 9:30 PM. What hasn't changed are the 360-degree views of the San Francisco skyline seen from every window. Returning patrons and new guests can still unwind in the elegant ambiance of the 19th-floor penthouse lounge.
A venerable San Francisco comfort zone closed but didn't succumb
The Top of the Mark, an iconic landmark, is reopened.
Story and Photos by John Sundsmo.
First opened in 1939 and open for 80 years, this iconic San Francisco landmark was closed by the Covid-19 pandemic. It was a comfort zone for servicemen and women shipping out to the Pacific in World War II, also the Vietnam and Korean wars. As my wife and I recently discovered, the venerable Top of the Mark is reopened with a new generation of comforts. Positioned at the very top of downtown San Francisco's highest hill (Nob Hill), the 19th floor of the Mark Hopkins hotel, affectionately known as the Top of the Mark, has given patrons dominant views of San Francisco since its opening. The newly reopened Top of the Mark offers post-pandemic comforts including live music with dancing on Friday nights, light appetizers and, signature cocktails. To support and nurture local businesses, the menu now includes cocktails prepared with Hanson organic wine-Vodka from Sonoma, which is paired with Kollar specialty chocolates from Napa.
Monferrato— A unique wine landscape of Piedmont, Italy
Story and Photos by Deborah Grossman.
When friends ask me to choose my favorite region of Italy, I never hesitate. It is always Piedmont. This usually provokes two responses. What about Tuscany? Or, what's to see in Piedmont? Friends who like Italian wine respond differently. "Ah, the land of Barbera and Nebbiolo wines. I've always wanted to go there." I love all of Italy from the northern reaches of Alto Adige where German is spoken to the wide expanses of Puglia on the Adriatic Sea. But Piedmont holds my heart. In addition to presenting outstanding wines, the region extends warm hospitality and beautiful landscapes. After a trip four months before the pandemic began, I bonded even more strongly with Piedmont. In the Monferrato area, we visited historic cities, tasted delicious food, stopped by wineries and explored areas designated as UNESCO heritage sites. Bottom line: I fell in love with Piedmont all over again.
Chicago: A Dining and Cultural Gem
Story and Photos by Deborah Grossman.
My first visit to Chicago years ago was spent in crowded meeting rooms representing my company at an IT conference. In my current role as a food, drink and travel writer, I've been hungry to return. This summer, with a group of friends, I explored the city for a few days from high up and on the river and fell in love. At every destination, I was enchanted by the beauty and energy of the city. Along the way,  Chicago gave me a generous taste of its heritage, its amazing attractions and most of all, its lively food and beverage scene.
Story and Photos by John Sundsmo.
"Hurry up and drop your bags. We've been waiting for you", urged Jersey Tom from the door of a white van. Thinking we were on time, but observing a full van, my wife and I quickly dropped our bags in the lobby of The Applewood Inn and rushed to take our seats. After our leisurely drive from San Francisco to Guerneville neither of us expected to be late for our Russian River rendezvous with friends, wine, river, trails, kayaks, art, cuisine and more wine. Positioned in the Sonoma Coast AVA, the Pinot Noir grown, crushed, fermented and aged (French Oak) in the Russian River Valley has its very own unique award winning features that are well known to judges and connoisseurs alike, (the Chardonnay is also star quality). We had a long weekend ahead of us with plans to enjoy it to the max.  AND, Yes! The Russian River, survivor of fires and floods, is fully open for business, with the river inner tube rafting just starting. Lucky for us,  it is not too busy yet.
San Miguel de Allende at Hotel Matilda
Story and Photos by Lee Daley.
For a soul soothing stay in San Miguel de Allende, Hotel Matilda, the "hotel different," is an eye-opener. When you travel to a Mexican colonial city that has been designated a World Heritage Site, you might expect to stay in a well-preserved restored mansion turned hotel. And, in San Miguel, you would have your choice of some of Mexico's finest examples of Baroque and Neoclassical architecture.The city's historic center is filled with buildings from the 17th and 18th centuries, many lovingly restored.
Santa Rosa -From the Pool to the Table
Story and Photos by Stephanie Levin.
Like a beacon of good will that is anchored in the history of a bygone era, the Flamingo Hotel  Spa and Conference Center, located in Santa Rosa, California, has been welcoming guests since 1957. Two years after it opened, word sifted south to Hollywood and "those in the know" traveled north to stay in the famed hotel. Today this  historic landmark has retained old-world charm with 21st Century modernity. Located in the heart of Sonoma Wine Country, travelers, families, weekend escapees and conferences attendees mingle over breakfast, swim in the enormous outdoor L-shaped pool, lounge in the  garden Jacuzzi, or treat themselves to spa, tennis or dining – literally from the pool to the table. As I relaxed outside under a dreamy spacious sky, surrounded by sycamore and cedar trees,  a sense of well-being and contentment sifted over me.
In Kauai, a bumper crop of food trucks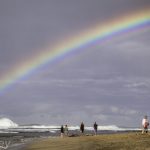 Story and Photos by Lee Daley.    The Hawaiian island of Kauai serves up cuisine that is both hot and cool. Hot as in haute and cool as in food trucks. Any stay on the Garden Isle offers a cornucopia of dining choices and so, on a recent visit, I went exploring for both haute and cool. My first priority was to find that special food truck, that secret find, where very fine island food could be had for a fair price  As it turned out, I lucked into two that spoke of authenticity and distinct island flavor. For my culinary caper in paradise, I signed up for a food tour with a mom and pop outfit, Tasting Kauai, run by food writer Marta Lane and her photographer hubby, Daniel. The food loving duo host culinary tours throughout the island with an emphasis on local, natural and delicious. Here's my take on the food truck, mom and pop eatery scene, on Kauai's North Shore.
Story by Judith Horstman.
All year long the color of blueberries sleeps in the mind's eye, elusive. A few days each year, I go and find it, climbing Wildcat Hill in southern New Hampshire with a backpack and my best friend, brushing through ferns and twigs and clambering over disheveled stone walls. It's always high summer and golden hot, and we set off eagerly, tasting blueberry pie, blueberry muffins, blueberry jam. Creating blueberry memories, the climb leaves us breathless with exertion and anticipation.
Story and Photos by Jacqueline Harmon Butler.
Somewhere in the distance a church bell chimed the midnight hour. A heavy mist made visibility along the valley road challenging. Nearing our rendezvous site we spotted two small nondescript Italian cars hovering by the side of the road. The drivers flashed their lights at our mini-bus then, with a squeal of tires, sped off along the twisting country road. Our driver, not intimidated by their speed, followed closely behind as we bumped our way into the hills near Alba in the Piedmont region of northern Italy. We were on a midnight truffle hunt in search of the legendary "White Diamonds," tartufo bianco, or white truffles. At a market price of nearly $2,000 a pound, truffle hunters are willing to secretly go to amazing extremes to find and retrieve these incredible tubers.
Story and Photos by Wanda Hennig.
A gastronomic walking tour takes us on a devouring orgy as we taste our way through ten of the central city's most authentic eateries. With it, I develop an enduring appetite for Lisbon. "Meet us at Praça Luís de Camões near Quiosque do Refresco. We will have a white bag with Lisboa Autêntica  logo."  I get the e-mail from Mafalda Pinto. She has lived and worked in Mozambique and Angola. Now she's living and working in Lisbon, running cultural and culinary tours.  I've asked her to sign me up for Lisboa Gastronómica —"gastronomic Lisbon"—a culinary exploration with tastings, as the name suggests……
Story and Photos by Stephanie Levin
Traveling alone for a woman affords multiple advantageous: she meets people she would never mingle with when traveling with a companion, she depends on herself for all decisions from where to hang her hat to switching itinerary mid-trip, no discussion. There are small courteous conversations that erupt spontaneously over a painting, the weather, politics and this summer over the World Cup.  Yet, when lunch or dinner time arrives, what comes to mind is clinking glasses of wine, romance, toes touching under the table, or starry-eyed couples in love.
Dinner at Sea with Holland America Line
Story by Lee Daley with photos by Lee Daley and John Sundsmo. "Where are we eating next?" became the favorite game my husband and I played during our brief four-night cruise from Ft. Lauderdale to Nassau aboard Holland America Line Nieuw Amsterdam.  Breakfast, lunch and dinner at sea gave us ample opportunity to sample the offerings of the Holland America Line kitchen and the ambience of its restaurants. Our cruise included two outings on land; one on Half Moon Cay, a private island owned by Holland America and the other a stop in port at Nassau. Except for lunch in those two ports, we hopscotched from one on-board eatery to the next. And in almost a dozen meals at sea, we never met with disappointment.
Paris Progressive Supper and Moveable Feast
Story by Jacqueline Harmon Butler
Ernest Hemingway called Paris a "movable feast," and I have always agreed with him. On my last night in Paris, I decided to have my own movable feast—a progressive supper, with each course in a different restaurant. I wanted the restaurants to be within walking distance from one another, the last one near my hotel in the 6th arrondissement. I was feeling a bit lonely and disappointed that I hadn't fallen in love with anyone this trip. I had already told my friends back home that this time I would meet that "special someone" while in Paris. Now, here I was, my last night in town, and still alone……
Culinary Poland in the time of Chopin
Story and Photos by Wanda Hennig
When Fryderyk Chopin was born March of 1810, 29 miles west of Warsaw in Żelazowa Wola, in the annex of a manor house belonging to a count whose children Chopin's father, Nicolas, tutored, traditional Old Polish cuisine was the table of the day. Culinary Poland had remained basically the same since the 17th century….
Pozole Thursdays at El Profe, Coacoyul, Mexico
Story and Photos by Carol Canter
El Profe puts the hamlet of Coacoyul on the map every Thursday afternoon from 2 p.m. when the restaurant opens to serve pozole, the hearty hominy-based soup that is the weekly culinary tradition in much of Mexico, especially in the state of Guerrero….
Bay Area Travel Writers publishes Taste of Travel Fall 2017
Story by Lee Daley and John Sundsmo
Taste of Travel News: Reading the Fall 2017, second publication, by the Bay Area Travel Writers Taste of Travel series once again puts me in the mood for a meal on the road. Titled Taste of Travel, Fall 2017 the anthology again features 32 culinary focused travel articles from Bankok to Beijing, Napa to Nayarit and points in between. The beautifully illustrated print copy sells for $18.40 but you can alternatively download a free pdf version– no strings attached…
A Lisbon Love Affair with a Famous Tart
Story and Photos by Wanda Hennig
 Pastéis de nata: Portugal's sweetest and most replicated tartlets. Versions of them tempt fans in cafés, tea rooms, coffee shops and bakery delis in cities around the world. Having tasted many while on a recent month-long trip roaming cities and towns running from Porto  to Faro  in the Algarve, I can unreservedly recommend a pilgrimage to the Belém neighborhood in Lisbon to sample "the original"—the one I would unhesitatingly say is the gold standard. The one I would wager a bet designating: best in the world. It was a chance discovery, as the best ones while traveling often are….
Rave Reviews for Rancho La Puerta's La Cocina Que Canta
Story and Photos by Stephanie Levin
Snippets of independent, quiet conversations from our little band of hikers erupted as an umbrella of oak trees narrowed to a dirt trail that ascended, descended, twisted and ascended again before leveling out. I had signed on for the pre-dawn two-mile hike up to La Cocina Que Canta, translated as "The Kitchen That Sings," Rancho La Puerta's organic garden and cooking school…..
Limewood Bar & Restaurant opens in Berkeley
Story and Photos by Lee Daley
Claremont Club & Spa, an urban resort in the Berkeley Hills, has long been a draw for its spectacular setting and club amenities. Now, a new option offers another reason to visit as the Claremont welcomes Limewood Bar & Restaurant to its dining roster. Limewood replaces the former Antoinette's which shuttered after a two-month stay. Where Antoinette's favored a formal haute cuisine format, Limewood has reversed that theme with its casual elegance and a seasonal, locally sourced menu. On a recent visit I found Limewood a welcoming way station for both the local community and hotel guests alike…..
Bay Area Travel Writers publishes Taste of Travel
Story by Lee Daley
Taste of Travel News: Reading the latest publication by the Bay Area Travel Writers put me in the mood for a meal on the road. Titled Taste of Travel, the anthology features 36 culinary focused travel articles from Bali to Brittany, Paris to Perkins Cove and points in between. The beautifully illustrated hard copy sells for a little more than $20 but you can download a free pdf version online- no strings attached- at the organization's website where you'll find a link to accommodate the easy purchase of both the book and the pdf at: http://batw.org/publications/….
2017 Cuisine and Culture Tours Foodies Alert
Story by Karen Misuraca
My first food-focused vacation was with Kandra Kitchen Crete, when the queen of Greek cuisine, Rosemary Barron, held forth in her ancient stone house in the hills above Malia on the island of Crete. Using the AGA, a wood-burning oven and a spit, we learned to make traditional Greek dishes––from moussaka to tzatziki, tyropita, souvlaki, avgolemono, and spanakopita. The very first magical night under the stars, we climbed onto the tarp-covered roof of a neighbor's house and stomped away on knee-high piles of grapes as the juice cascaded off a corner into buckets below and we sipped last year's tongue-puckering wine….