Corsica Rond Point and the Stick Shift Saga
Story by Stephanie Levin.
Let me put my domestic and international driving record into perspective: it's perfect.  My foray into driving began with the family stick shift bouncing up the block until I got the hang of the clutch and gear coordination. Subsequently, all my cars have been powerful little manual gears. There's a connection with a stick shift you cannot obtain with an automatic. I love the regulation of speed, the windows rolled down, the breeze flirting with my imagination whether I'm downshifting through traffic-choked Mexico City, desolate Moroccan roads, or ripping around rond-points in Paris. Simply said, why any driver would opt for an uneventful automatic over a stylish stick shift is beyond me. That is until I recall my Corsica Rond Point and the Stick Shift Saga. (Rond-point is a roundabout.)
Hidden Rome: A New Way to Explore the City
Story and Photos by Libor Pospisil.
In June 2021, Italy opened its borders to tourists from a range of countries, including the U.S., and allowed the vaccinated arrivals to skip quarantine. Soon afterward, I flew straight into Rome because after all, who knows how long the window of opportunity may last. After eighteen months without an international trip, I walked out of my guesthouse at Piazza di Spagna, and began staggering around the hot streets of Rome, not knowing how to travel anymore. Should I immediately start taking photos as usual, or should I run to the Colosseum just to cross an item off a list? The confusion began to feel like a hangover after a long and thorough delirium. The kind of hangover, which makes you want to start a new life. With that, I made a decision—no return to the pre-Pandemic way of traveling; no hunt for pictures considered iconic; no visiting of the famous sites, or at least, not only the famous sites. I was in Rome, and I was craving to feel it, explore it, and learn from it. But how to turn the lofty sentiment into reality? Maybe by turning the trip into a search for the most underrated places in Rome, even perhaps for what I came to term Hidden Rome.
Monferrato— A unique wine landscape of Piedmont, Italy
Story and Photos by Deborah Grossman.
When friends ask me to choose my favorite region of Italy, I never hesitate. It is always Piedmont. This usually provokes two responses. What about Tuscany? Or, what's to see in Piedmont? Friends who like Italian wine respond differently. "Ah, the land of Barbera and Nebbiolo wines. I've always wanted to go there." I love all of Italy from the northern reaches of Alto Adige where German is spoken to the wide expanses of Puglia on the Adriatic Sea. But Piedmont holds my heart. In addition to presenting outstanding wines, the region extends warm hospitality and beautiful landscapes. After a trip four months before the pandemic began, I bonded even more strongly with Piedmont. In the Monferrato area, we visited historic cities, tasted delicious food, stopped by wineries and explored areas designated as UNESCO heritage sites. Bottom line: I fell in love with Piedmont all over again.
Story and Photos by Carol Canter.
The banks of the Nile looked golden in the late afternoon sun. A lone figure wearing a white turban and jellabiya robe knelt toward Mecca in prayer. A passing felucca (boat) cast an abstract reflection of its white sails in the rippling Nile waters. Women robed and hooded in black stooped to fill large earthenware jugs with water, then rose to take them home atop their heads.
Discovering the Treasures of Armenia
Story and Photos by Libor Pospisil. Like any other monastery in Armenia, Sevanavank occupies a spot that is dramatic and definitely Instagram-able. The 9th-century monastery sits on a rocky hill overlooking the gigantic Lake Sevan with mountains in the distance. That was the panorama that made me fall under Armenia's spell. But to get to that spell bound state, I needed to escape the Soviet-era boulevards of Yerevan, the country's capital. Unlike some other travel destinations, Armenia does not serve up its treasures on a silver platter. Instead, I had to look for them inside the un-glamorous buildings of Yerevan. But just a few-hour drive away, the reward was worth it.
Peggy Guggenheim: At Home in Venice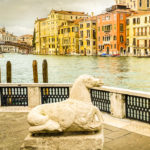 Story and Photos by Lee Daley. On the Grand Canal of Venice if you look carefully, you will see -–almost hidden, overshadowed as it is by  the multi-storied palatial homes along that waterway – a low white stone palazzo that belies the treasures held within. This was the home of Peggy Guggenheim, an American heiress and art collector who single-handedly saved modern art. Peggy Guggenheim is known for her art collection and her outrageously unconventional life. Many have called her risqué, a term with which she would most likely agree.  If Peggy Guggenheim had lived in our time, she would be the ideal candidate for a reality TV series—her expertise, her "shoot from the hip" dialogue and colorful personal lifestyle meant scandals stuck to her like paint on a canvas. Case in point: In the prim 50s, Peggy needed no beau to escort her into Harry's Bar for an evening cocktail. At her beck and call was her own private gondola propelled by her personal gondolier. He would ferry her along the canal and wait dockside while she savored a cocktail and took in the evening sunset: "If anything can rival Venice in its beauty, it must be its reflection at sunset in the Grand Canal." Peggy Guggenheim.
Story and Photos by John Sundsmo.
On an island in a shallow lagoon, Venice came to dominance by sea power and now the power of the sea is threatening its very existence. My wife and I arrived in Venice two weeks before the catastrophic Acqua Alta (high water) tides that submerged Saint Mark's square under more than five feet of water. The rushing sea wrought havoc with local merchants, restaurateurs and hostlers and damaged priceless works of art in Saint Mark's Basilica. Vladmiro Cavagnis, a fourth generation gondolier, said: "It's a city full of history. A history that, little by little, with water, will end up like Atlantis. People are destroyed, anguished, sad. They see a city that is disappearing." (Alex Horton, Andrew Freedman – The Washington Post –  November 15, 2019). The November 2019 flood was the worst in the 700 years of recorded history at Saint Marks Basilica.  Giuseppe Conte, the Italian Prime Minister, described the disaster as: "..a blow to the art of our country. While it's still too early to quantify the extent of its havoc, chances are it will leave indelible marks." (Marianna Cerini, CNN –  November 16, 2019 ).
Story and Photos by John Sundsmo.
Athens has long been a favorite of my wife and I, especially since it was our first international trip together as a couple. Somehow every time we land in Greece, Athens is only a stopover on our way to somewhere else. But why love Athens? For us, Athens is full of lovely historic sites, wonderful ethnic foods, good local wines and great cultural diversity.
Story and Photos by Libor Pospisil.
According to Elie's plan, which I did not want to destroy, just expand, our first stop would be Anjar, followed by Baalbek. That made a lot of sense given that we were headed for a day tour of ancient ruins in Bekaa Valley along the eastern end of Lebanon. The citadel of Anjar and the temples of Baalbek are the most scenic sites in the valley (both on the UNESCO heritage list). But I was trying to utilize my five days in Lebanon as best as I could.
T'bilisi, Georgia: a city of stone and glass
Story and Photos by Libor Pospisil.
"What is there to see?" That was the most frequent question when I told people about my upcoming trip to Georgia—the country—and T'bilisi, its capital. This sentiment is understandable given that Georgia began to emerge on travelers' maps a mere fifteen years ago after the Rose Revolution of 2003. The unique beauty of the country had therefore become a well-kept secret that leaked to the West only sporadically. In one such case, John Steinbeck reported from his Eastern European tour in 1948 that people were describing to him "the country in the Caucasus and the Black Sea…" as "…the second heaven."
Story and Photos by Libor Pospisil.  Many places in the world claim to sit at some kind of crossroads. Malta, a small island in the middle of the Mediterranean, surely deserves that designation more than most. Due to its proximity to major naval routes that connect three continents, and thanks to its unique culture protected by blue waters on all sides, Malta has long been a refuge for travelers, and even outlaws. Including some famous ones! Saint Paul stayed there after being shipwrecked on his way from the Levant to Italy. Lord Byron had a brief layover in Malta on his trip from England to the Levant. Another visitor arrived on the island in July 1607, to escape murder charges in Italy. He was an artist, born Michelangelo Merisi, but known as Caravaggio, after his hometown. Already famous for having almost single-handedly invented Baroque painting, the 35-year-old Caravaggio came to Malta to turn his tumultuous life into a blank canvass, onto which he could paint anew.
Brac Island. Croatia: Sun, Sea and Stone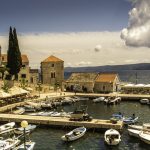 Story and Photos by Lee Daley.  In Croatia, aboard the Katarina Line Futura:  As we watched deckside, our small cruise ship anchored alongside the Dalmatian Coast shore of Brac Island and its Golden Horn Beach, known as one of Europe's most beautiful. Holding just 38 passengers, the Futura's compact size fits into ports large ships can't handle. Our eager group of sunbathers easily disembarked and clambered aboard small boats for the short ride to the coast line's golden sands. Once ashore, my companion and I decided to meander. Sunbathing could come later.
Croatia Island Cruise in the Adriatic Sea
Story and Photos by John Sundsmo.
"
There are more than a thousand Croatian islands in the Adriatic sea
" our
Katarina Line
cruise director told us, "
but we only have time to visit Korčula, Hvar and Brac. For more, you have to come back
." By the end of our short four night cruise, that is exactly what my wife and I hope to do – and hopefully soon. Spectacular white clouds filled the sky. Tranquil turquoise ocean water welcomed swimmers. Sparkling sandy beaches lured sun-bathers. Ancient Venetian forts and old cities with narrow cobblestone lanes beckoned walkers. Fine dining, fresh seafood and wonderful
Plavac Mali
; (Croatian pronunciation-
[plǎːʋat͡s mǎli]
), red, and
Pošip
, white, wines tickled and warmed the palate – what's not to like?
Croatian Wine Tasting in the Dalmatian Islands
Story and Photos by John Sundsmo.
On a recent Katarina Line cruise of Croatian discovery, we learned that wine makers in the Dalmatian Islands have left an indelible mark on the fine wines produced in California, Australia, New Zealand and Chile. Remarkably, throughout wars, conquest and droughts, the islands of the Adriatic Sea, (East of Italy and South of the Alps), have produced fine wines for 2,500 years. Galleys and sailing ships transported that wine up and down the Mediterranean throughout Greek (500BC) and Roman times well into the 14th century. Greek writer Athenaeus wrote 18 centuries ago about the high quality of Croatian wine, especially those coming from the islands of Hvar and Korčula.
If you're traveling to Croatia, and have only time for one island, set sail to Hvar Island. The longest of the 1185 Croatian islands dotting the Adriatic Sea, Hvar Island is a feast for the senses. Vineyards abut ancient olive groves; scented pines and lavender blanket fertile hillsides; and fabled towns stake out history on limestone cliffs. Stone houses studded into the limestone hillsides, connected by small bridges that date back centuries, grace the entire island. No matter where you park yourself on the island, you'll be enchanted.
Story and Photos by John Sundsmo
A memorable few years ago my wife and I visited the Greek islands of Santorini and Paros. There we encountered some unique and equally memorable ancient varieties of Greek wines….
An Island in Time: Santorini, Greece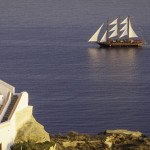 Story and Photos by Lee Daley.     What is it about the Greek island of Santorini that captivates all who visit? It's easy to credit its beauty to the shimmering blue Aegean, the drama of its white washed cube dwellings built atop one another, clinging to the cliff side, some even built cave-like into it. But inexplicably, it's much more than that. One has only to wander for a day along the winding pathway above the caldera in the village of Oia to sense the fundamental union of elements at play.
Cyprus: Eco-tourism in the land of Aphrodite
Story and Photos by Lee Daley
Few places on Earth can hold a candle to Cyprus when it comes to mythic lore. It was here that the goddess of love, beauty and sexuality emerged from the sea in a surge of foam.  Nature and eco-tourists traveling to the rugged Akamas Peninsula on the old road from Lemesos to Pafos are blessed with the sight of Aphrodite's Rock rising out of the indigo waters of the Mediterranean, just off shore from the beach that curls around it.