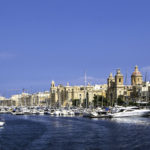 Story and Photos by Libor Pospisil.  Many places in the world claim to sit at some kind of crossroads. Malta, a small island in the middle of the Mediterranean, surely deserves that designation more than most. Due to its proximity to major naval routes that connect three continents, and thanks to its unique culture protected by blue waters on all sides, Malta has long been a refuge for travelers, and even outlaws. Including some famous ones! Saint Paul stayed there after being shipwrecked on his way from the Levant to Italy. Lord Byron had a brief layover in Malta on his trip from England to the Levant. Another visitor arrived on the island in July 1607, to escape murder charges in Italy. He was an artist, born Michelangelo Merisi, but known as Caravaggio, after his hometown. Already famous for having almost single-handedly invented Baroque painting, the 35-year-old Caravaggio came to Malta to turn his tumultuous life into a blank canvass, onto which he could paint anew.
Brac Island. Croatia: Sun, Sea and Stone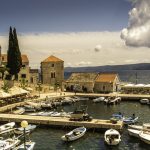 Story and Photos by Lee Daley.  In Croatia, aboard the Katarina Line Futura:  As we watched deckside, our small cruise ship anchored alongside the Dalmatian Coast shore of Brac Island and its Golden Horn Beach, known as one of Europe's most beautiful. Holding just 38 passengers, the Futura's compact size fits into ports large ships can't handle. Our eager group of sunbathers easily disembarked and clambered aboard small boats for the short ride to the coast line's golden sands. Once ashore, my companion and I decided to meander. Sunbathing could come later.
Croatia Island Cruise in the Adriatic Sea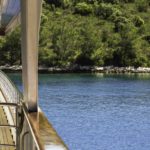 Story and Photos by John Sundsmo.
"
There are more than a thousand Croatian islands in the Adriatic sea
" our
Katarina Line
cruise director told us, "
but we only have time to visit Korčula, Hvar and Brac. For more, you have to come back
." By the end of our short four night cruise, that is exactly what my wife and I hope to do – and hopefully soon. Spectacular white clouds filled the sky. Tranquil turquoise ocean water welcomed swimmers. Sparkling sandy beaches lured sun-bathers. Ancient Venetian forts and old cities with narrow cobblestone lanes beckoned walkers. Fine dining, fresh seafood and wonderful
Plavac Mali
; (Croatian pronunciation-
[plǎːʋat͡s mǎli]
), red, and
Pošip
, white, wines tickled and warmed the palate – what's not to like?
Croatian Wine Tasting in the Dalmatian Islands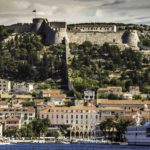 Story and Photos by John Sundsmo.
On a recent Katarina Line cruise of Croatian discovery, we learned that wine makers in the Dalmatian Islands have left an indelible mark on the fine wines produced in California, Australia, New Zealand and Chile. Remarkably, throughout wars, conquest and droughts, the islands of the Adriatic Sea, (East of Italy and South of the Alps), have produced fine wines for 2,500 years. Galleys and sailing ships transported that wine up and down the Mediterranean throughout Greek (500BC) and Roman times well into the 14th century. Greek writer Athenaeus wrote 18 centuries ago about the high quality of Croatian wine especially those coming from the islands of Hvar and Korčula.
If you're traveling to Croatia, and have only time for one island, set sail to Hvar Island. The longest of the 1185 Croatian islands dotting the Adriatic Sea, Hvar Island is a feast for the senses. Vineyards abut ancient olive groves; scented pines and lavender blanket fertile hillsides; and fabled towns stake out history on limestone cliffs. Stone houses studded into the limestone hillsides, connected by small bridges that date back centuries, grace the entire island. No matter where you park yourself on the island, you'll be enchanted.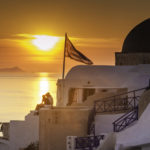 Story and Photos by John Sundsmo
A memorable few years ago my wife and I visited the Greek islands of Santorini and Paros. There we encountered some unique and equally memorable ancient varieties of Greek wines….
An Island in Time: Santorini, Greece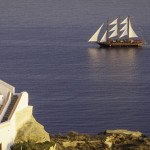 Story and Photos by Lee Daley.     What is it about the Greek island of Santorini that captivates all who visit? It's easy to credit its beauty to the shimmering blue Aegean, the drama of its white washed cube dwellings built atop one another, clinging to the cliff side, some even built cave-like into it. But inexplicably, it's much more than that. One has only to wander for a day along the winding pathway above the caldera in the village of Oia to sense the fundamental union of elements at play.
Cyprus: Eco-tourism in the land of Aphrodite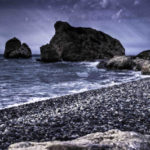 Story and Photos by Lee Daley
Few places on Earth can hold a candle to Cyprus when it comes to mythic lore. It was here that the goddess of love, beauty and sexuality emerged from the sea in a surge of foam.  Nature and eco-tourists traveling to the rugged Akamas Peninsula on the old road from Lemesos to Pafos are blessed with the sight of Aphrodite's Rock rising out of the indigo waters of the Mediterranean, just off shore from the beach that curls around it.