Hidden Rome: A New Way to Explore the City
Story and Photos by Libor Pospisil.
In June 2021, Italy opened its borders to tourists from a range of countries, including the U.S., and allowed the vaccinated arrivals to skip quarantine. Soon afterward, I flew straight into Rome because after all, who knows how long the window of opportunity may last. After eighteen months without an international trip, I walked out of my guesthouse at Piazza di Spagna, and began staggering around the hot streets of Rome, not knowing how to travel anymore. Should I immediately start taking photos as usual, or should I run to the Colosseum just to cross an item off a list? The confusion began to feel like a hangover after a long and thorough delirium. The kind of hangover, which makes you want to start a new life. With that, I made a decision—no return to the pre-Pandemic way of traveling; no hunt for pictures considered iconic; no visiting of the famous sites, or at least, not only the famous sites. I was in Rome, and I was craving to feel it, explore it, and learn from it. But how to turn the lofty sentiment into reality? Maybe by turning the trip into a search for the most underrated places in Rome, even perhaps for what I came to term Hidden Rome.
Story and Photos by Deborah Grossman.
When friends ask me to choose my favorite region of Italy, I never hesitate. It is always Piedmont. This usually provokes two responses. What about Tuscany? Or, what's to see in Piedmont? Friends who like Italian wine respond differently. "Ah, the land of Barbera and Nebbiolo wines. I've always wanted to go there." I love all of Italy from the northern reaches of Alto Adige where German is spoken to the wide expanses of Puglia on the Adriatic Sea. But Piedmont holds my heart. In addition to presenting outstanding wines, the region extends warm hospitality and beautiful landscapes. After a trip four months before the pandemic began, I bonded even more strongly with Piedmont. In the Monferrato area, we visited historic cities, tasted delicious food, stopped by wineries and explored areas designated as UNESCO heritage sites. Bottom line: I fell in love with Piedmont all over again.
Peggy Guggenheim: At Home in Venice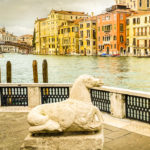 Story and Photos by Lee Daley. On the Grand Canal of Venice if you look carefully, you will see -–almost hidden, overshadowed as it is by  the multi-storied palatial homes along that waterway – a low white stone palazzo that belies the treasures held within. This was the home of Peggy Guggenheim, an American heiress and art collector who single-handedly saved modern art. Peggy Guggenheim is known for her art collection and her outrageously unconventional life. Many have called her risqué, a term with which she would most likely agree.  If Peggy Guggenheim had lived in our time, she would be the ideal candidate for a reality TV series—her expertise, her "shoot from the hip" dialogue and colorful personal lifestyle meant scandals stuck to her like paint on a canvas. Case in point: In the prim 50s, Peggy needed no beau to escort her into Harry's Bar for an evening cocktail. At her beck and call was her own private gondola propelled by her personal gondolier. He would ferry her along the canal and wait dockside while she savored a cocktail and took in the evening sunset: "If anything can rival Venice in its beauty, it must be its reflection at sunset in the Grand Canal." Peggy Guggenheim.
Story and Photos by John Sundsmo.
On an island in a shallow lagoon, Venice came to dominance by sea power and now the power of the sea is threatening its very existence. My wife and I arrived in Venice two weeks before the catastrophic Acqua Alta (high water) tides that submerged Saint Mark's square under more than five feet of water. The rushing sea wrought havoc with local merchants, restaurateurs and hostlers and damaged priceless works of art in Saint Mark's Basilica. Vladmiro Cavagnis, a fourth generation gondolier, said: "It's a city full of history. A history that, little by little, with water, will end up like Atlantis. People are destroyed, anguished, sad. They see a city that is disappearing." (Alex Horton, Andrew Freedman – The Washington Post –  November 15, 2019). The November 2019 flood was the worst in the 700 years of recorded history at Saint Marks Basilica.  Giuseppe Conte, the Italian Prime Minister, described the disaster as: "..a blow to the art of our country. While it's still too early to quantify the extent of its havoc, chances are it will leave indelible marks." (Marianna Cerini, CNN –  November 16, 2019 ).
Story and Photos by Jacqueline Harmon Butler.
Somewhere in the distance a church bell chimed the midnight hour. A heavy mist made visibility along the valley road challenging. Nearing our rendezvous site we spotted two small nondescript Italian cars hovering by the side of the road. The drivers flashed their lights at our mini-bus then, with a squeal of tires, sped off along the twisting country road. Our driver, not intimidated by their speed, followed closely behind as we bumped our way into the hills near Alba in the Piedmont region of northern Italy. We were on a midnight truffle hunt in search of the legendary "White Diamonds," tartufo bianco, or white truffles. At a market price of nearly $2,000 a pound, truffle hunters are willing to secretly go to amazing extremes to find and retrieve these incredible tubers.
Carnevale Di Venezia is hot but Baby It's Cold Outside
Story and Photos by Jacqueline Harmon Butler
Tuesday was the last day of Carnevale – and my last chance to wear one of the getups that were now all bunched up on the bottom of my suitcase. I looked at them with dismay. I couldn't imagine venturing out in anything so light-weight and there was certainly no way I could layer enough clothing underneath one of my costumes to keep warm. I finally admitted that I would freeze to death in my thin little ensembles. So, attired in almost everything else I brought, I headed for the Piazza San  Marco. My Venetian friends had invited me to come to Venice for Carnevale. They said I could use the studio apartment kept for family and friends.  This was an offer I couldn't refuse so I arranged my schedule to be in Venice the last week of Carnevale. Then, as an added treat, stop off in Paris for the weekend before heading home.
In Italy, the Fire of Mount Etna
Story and Photos by Jacqueline Harmon Butler
Mount Etna, Italy. As I stood pondering the wares of the Antico Souvenir, near the summit of Mount Etna, a hand suddenly appeared in front of me, offering a small piece of bread smeared with a greenish-colored concoction. I looked up into the smiling face of the proprietor of the shop. "Signora, piacere," he indicated for me to taste. I sniffed at the bread. It smelled heavenly. Then I slid my tongue over the paste. It tasted delicious. Happily, I popped the entire piece of bread into my mouth and smiled in appreciation.
Impressions of Venice Then and Now
Story and Photos by Stephanie Levin
My last memory of Venice was as a 21 year old, running to catch a train with a backpack the size of my body molded to my spine. Too young, and too inexperienced a traveler, the magic spell Venice casts over first time arrivals completely washed over me. Now, decades later, I have returned to Venice, a seasoned traveler, a much older woman traveling alone with eyes and senses wide open, and as I enter the island on the Alilaguna boat from the airport, the immensity and expansiveness of Venice far surpass the impressions an eye or film can capture. The domes and cupolas asserting their architectural puissance, the palette of terra cotta and sunset colored palaces are a testament to the heart and soul that define Venice.
Story and Photos by Stephanie Levin
When Frances Mayes' book, Under the Tuscan Sun, became an overnight success, traveling to Tuscany became De rigueur. But with an aversion to following crowds, I circumvented Italy in my travels. Then a year ago, I would wake up in sweat dreaming about Italy; I dabbled in Italian, and listened to opera. Eventually, I bought a ticket to Italy fully aware I was not going to have a Frances Mayes experience-no Italian lover whisking me off for a brief tryst, nor a perfect villa with a view of paradise. Yet, as Italy beckoned like a languid lover, I sensed the land, or perhaps the people would offer something I hadn't yet experienced in my travels. Tuscany did not disappoint.