Travel Newsletter.
By John Sundsmo.
Photos by Lee Daley.
In Cuba Libre? filmmaker Dick Jordan uses archival film footage and interviews with five travel journalists to re-introduce Cuba travel to American audiences.  Presented at local venues in the San Francisco Bay Area, the film is also currently posted on You Tube and Vimeo.  See links below.
Cuba Libre? is entered in nine different Western film festivals this Summer and Fall including, among others,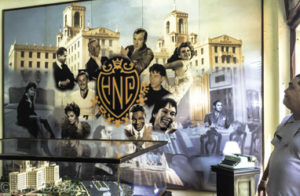 the Santa Monica International Film Festival (July 23-24, 2016; Santa Monica, CA), Napa Valley Film Festival (Nov. 9-13, 2016; Napa, CA), Santa Fe Independent Film Festival (Oct. 19-23, 2016; Santa Fe, NM).  The archival film footage in introduces us to the decadence that was Havana in the roaring 30's and into the Sinatra-Sammy Davis-Dino Rat Pack era that was the Havana of the '50s.  The Communist revolution changed everything.  An interview with noted travel journalist Christopher P. Baker, (National Geographic Guide and author of the 2016 Moon Handbook to Cuba), fills in a description of Cuba during the Cold War years, the tight handed rule of Fidel and The Bay of Pigs debacle under JFK.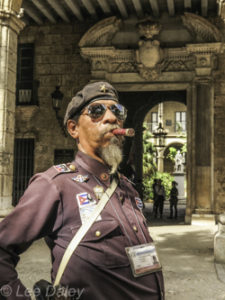 Recent Cuba travel experiences and analysis in the film are provided by interviews with professional travel writers including Chris Baker, Monica Conrady, MJ Pramik and Lee Daley (Editor@TravelExaminer.net).  Three of these journalists joined Dick Jordan and host Melinda Adams in a recent two hour wide ranging radio discussion of present day culture, art, music and the Cuban travel experience.  That FCC Free Radio program can be heard online at: https://soundcloud.com/talestoldfromtheroad/cuba-libre-on-fcc-free-radios-lilycat-on-stuff-show .
While Cuba travel is encouraged by President Obama, certain features of the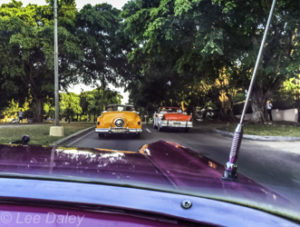 travel are still not fully functional, for example credit cards and ATM access to money.  These limitations were described by the author Chris Baker during a book tour for his 2016 Moon Handbook to Cuba.  His talk was reviewed on Travel Examiner by Lee Daley in her article entitled "Cuba: Expert travel advice from renowned Cuba author."

As an example of the challenges faced by travelers, in the FCC Free Radio program MJ Pramik describes her experience of not having sufficient Cuban money to pay for an artwork; being trusted by the gallery owner and given the canvas in exchange for promising to wire transfer funds to a Spanish bank on her return to the states.  Hopefully the generous trusting nature of the Cuban people will survive the US tourist rush which is expected as Cuba reopens to a greatly expanded number of airline flights.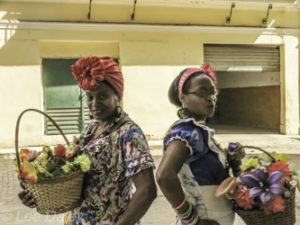 The re-opening of Cuba to American visitors in December 2014 and the subsequent agreement with the US Department of Transportation on February 16, 2016 will be opening airline flights to Cuba on a daily basis.  A number of US carriers have launched flights as of September 2016 including e.g., American Airlines (21 flights/day), Alaska Airlines (2/day), Delta (5/day), Frontier, JetBlue (15/day), Southwest (12/day), Spirit and United (1/day).  More flights are planned for departure from several US cities into different international airports in Cuba besides Havana, so make sure to double check your itinerary before finalizing your booking.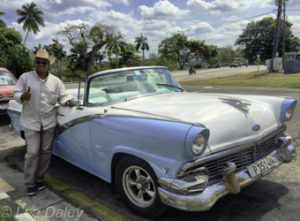 UPDATE: 6/16/17 – President Trump has indicated his intention to rescind the Obama Cuba travel initiative and restore the ban on US citizens individual travel to Cuba. Group travel on in people-to-people tours will be reinstated. It is expected that the changes will take some months to implement.  For the latest status you can check the US Department of State website.
While accommodations and cuisine are still reported to be a bit Spartan in Cuba, this unique people-to-people travel opportunity is stimulating many travelers to explore the possibilities.  If you are interested, Dick Jordan's film "Cuba Libre?" may be a great resource for you.  https://www.youtube.com/watch?v=34Xkbz8ziqo ; https://vimeo.com/151719656.
All photographs, Copyright Lee Daley