By Lee Daley.

Christopher Baker, renowned Cuba travel expert and author, regaled a standing room only audience with numerous travel tips and expert advice on travel to Cuba this past weekend at a book signing and slide show event in Marin County, California, hosted by Book Passage and the Bay Area Travel Writers. A great raconteur, Baker fielded questions for more than half an hour after his overview of travel to the island. The author's travel tips to Cuba were peppered with insightful anecdotes and trivia garnered from his more than 100 trips to the island. These tips and more are contained is his best-selling Moon guidebooks.
Every U. S. citizen can now travel to Cuba and Baker discussed the best options He noted that as long as Americans certify they are traveling through one of 12 approved categories — which include journalistic, religious and humanitarian trips — they can simply head to the island. Traveling to Cuba solely as a tourist remains prohibited. Per Baker's tips, travelers need to keep a basic journal of their activities and save it for five years after their return.
UPDATE: 6/16/17 – President Trump has indicated his intention to rescind the Obama Cuba travel initiative and restore the ban on US citizens individual travel to Cuba. Group travel on people-to-people tours will be reinstated. It is expected that the changes will take some months to implement.  For the latest status you can check the US Department of State website.
One of the most rewarding ways to visit the island remains under the auspices of a "people to people" tour organized by many U.S. approved travel agencies. In fact, Baker himself leads Cuba tours for National Geographic Expeditions and MotoDiscovery. In 2013 he led the first group motorcycle tours of Cuba for U.S. citizens since the Revolution.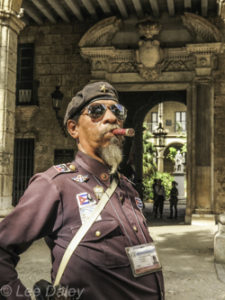 At this point,  Americans can also return to the USA with up to $100 in Cuban rum and cigars and a total of $400 in goods. In addition, U.S. residents will be able to use their credit and debit cards on the island, a move that was restricted and forced Americans to pay for their entire trip in cash. Baker cautioned, however, that setting up credit card systems in Cuba will take time and cash or euros should be relied upon for your expenditures while on the island.
What you can look forward to once you are in Cuba: Vintage classic cars create an "only in Cuba" experience: One quarter of all cars in use in Cuba are mid-century vintage U S cars. Ford Edsels were manufactured in the U S for just 2.5 years and more of them are in Havana than anywhere else. Cadillacs, too, exist in Cuba more than in the US. Cubans call their vintage U.S. vehicles "yank tanks" and on your first evening in Havana, celebrate your arrival by taking a beautifully restored classic American convertible taxi to dinner. These retrofitted relics of the fifties, the Ford Fairlane 500s, Chevrolet Bel Airs or Impalas, Pontiacs and Studebakers, many with paint jobs spiffed to the nines, serve as taxis for their drivers who earn a living from tourists.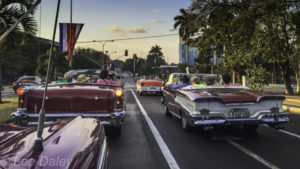 Listen to radio host Tom Wilmer's NPR interview with Baker as he talks with Wilmer about Cuba's classic cars by clicking here: http://christopherpbaker.com/national-geographic-expeditions-cuba-expert-christopher-p-baker-talks-nprs-tom-wilmer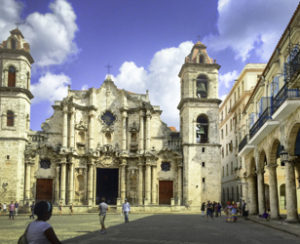 Architecture: Cocooned in a time warp, parts of Havana resemble the setting for a romantic novel, a portal to the past. In Old Havana alone, more than 500 monuments exist. Few cities in the world contain the plethora of architectural periods as this vibrant capital. Fortunately many restoration projects are ongoing. Venture out for a jaunt aboard one of the city's many antique horse-drawn carriages, a fitting perch from which to peruse Havana's architectural glories. See also Cuba Libre? Documentary on Cuba Travel History